231 High Street, Acton, London - W3 9BY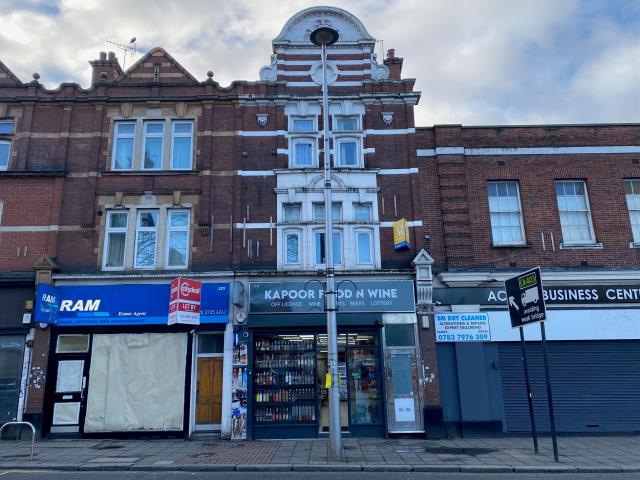 Beds: No data
Type: Terraced
Tenure: No data
Know what you are buying before you bid with a Legal Risks & Cost Report:
Costs Summary,
extracted from all sections
Legal Risks Summary,
ranking all identified risks by importance
Legal Risks Detail
- your essential section by section guide to addressing the risks
Express 1-Business-Day Delivery
and free
All-In Updates
- right up to auction day
PLUS,
Property Research Report
(Value £49, now FREE) with comparables, rents, yields and more
Phillip Arnold Auctions describes this property as:
This terraced dwelling is situated in the heart of Acton opposite Morrisson and Market Square. Good road links serve the area with easy access onto the A40 and M4. Ealing Broadway with its main shopping facilities and station is within two miles and Acton Town Piccadilly line station is also within walking distance. Shepherds Bush and London Westfield shopping centre are within 2 miles and Acton Main Line station, part of the planned Crossrail route is within walking distance. The property consists of a commercial unit over basement and ground floor levels that has been let on a 16 year lease from 01/09/05. The lease was due to expire on 31/08/21 . However the tenant has now renewed for a further 12 year term with no break clauses, thus expiring on 2033 at an increased rent of £22,500 pa. The upper parts are split into two self contained flats that have been sold off on long leases and producing a ground rent income of £125 pa per flat, thus the overall income for this lot is £22,750. The flats were sold on 125 year leases from 25/12/03 with fixed ground rent reviews every 25 years to £225, £365, £500 and £650 respectively. This lot will be of interest to investment buyers. We are advised that VAT is not applicable and the property is held in an SPV as a sole asset if of interest. ...
We are unable to find enough local data to provide good comparisons for this type of property. The data we are providing covers there average for -all- properties
Average sold price:
£863,163
Average asking price:
£814,995
Average price per sq/ft:
£677
| Date | Price | Beds | Address | Distance (miles) |
| --- | --- | --- | --- | --- |
| 30 Jul 2020 | £350,000 | 4 | 21, Stuart Road, W3 6DG | 0.22 |
| 23 Mar 2020 | £1,180,000 | 4 | 7, Meon Road, W3 8AN | 0.40 |
| 21 Feb 2020 | £855,000 | 3 | 13, Chaucer Road, W3 6DR | 0.36 |
| 14 Feb 2020 | £800,500 | 3 | 36, Meon Road, W3 8AN | 0.40 |
| 07 Feb 2020 | £995,000 | 4 | 28, Stuart Road, W3 6DG | 0.24 |
| 31 Jan 2020 | £760,000 | | 9, Davenant Way, Acton, W3 8DN | 0.28 |
| 17 Jan 2020 | £1,340,000 | 4 | 26, Spencer Road, W3 6DW | 0.33 |
| 10 Jan 2020 | £780,000 | 3 | 22, Grove Road, Acton, W3 6AW | 0.33 |
| 06 Jan 2020 | £1,050,000 | 4 | 13, Spencer Road, W3 6DN | 0.29 |
| 16 Dec 2019 | £1,055,000 | 3 | 29, Myrtle Road, W3 6DY | 0.40 |
| 06 Dec 2019 | £850,000 | 3 | 47, Myrtle Road, W3 6DZ | 0.41 |
| 20 Nov 2019 | £775,000 | | 3, Davenant Way, Acton, W3 8DN | 0.28 |
| 15 Nov 2019 | £805,000 | 4 | 92, Mill Hill Road, W3 8JJ | 0.23 |
| 13 Nov 2019 | £780,000 | | 4, Davenant Way, Acton, W3 8DN | 0.28 |
| 08 Oct 2019 | £750,000 | | 7, Davenant Way, Acton, W3 8DN | 0.28 |
| 03 Oct 2019 | £961,125 | 4 | 17, Spencer Road, W3 6DN | 0.29 |
| 27 Sep 2019 | £775,000 | | 1, Davenant Way, Acton, W3 8DN | 0.27 |
| 11 Sep 2019 | £1,143,000 | 4 | 43, Summerlands Avenue, W3 6EW | 0.27 |
| 30 Aug 2019 | £1,010,000 | 3 | 29, Grove Place, W3 6AS | 0.25 |
| 30 Aug 2019 | £795,000 | 3 | 13, Gloucester Road, W3 8PD | 0.44 |
We are unable to find enough local data to provide good comparisons for this type of property. The data we are providing covers there average for -all- properties
Average weekly rental: £569
| Weekly Rent | Bedrooms | Property Type | distance (miles) |
| --- | --- | --- | --- |
| £144 | 1 | terraced_house | 0.15 |
| £554 | 3 | terraced_house | 0.19 |
| £484 | 4 | terraced_house | 0.32 |
| £577 | 3 | terraced_house | 0.33 |
| £508 | 4 | terraced_house | 0.33 |
| £496 | 4 | terraced_house | 0.36 |
| £288 | 1 | terraced_house | 0.37 |
| £404 | 2 | terraced_house | 0.37 |
| £923 | 5 | terraced_house | 0.41 |
| £576 | 5 | terraced_house | 0.57 |
| £346 | 1 | terraced_house | 0.59 |
| £185 | 1 | terraced_house | 0.66 |
| £646 | 4 | terraced_house | 0.68 |
| £669 | 5 | terraced_house | 0.68 |
| £646 | 5 | terraced_house | 0.73 |
| £646 | 5 | terraced_house | 0.73 |
| £646 | 4 | terraced_house | 0.73 |
| £669 | 5 | terraced_house | 0.73 |
| £1,373 | 4 | terraced_house | 0.78 |
| £554 | 3 | terraced_house | 0.80 |