72B Beckway Road, Norbury - SW16 4HA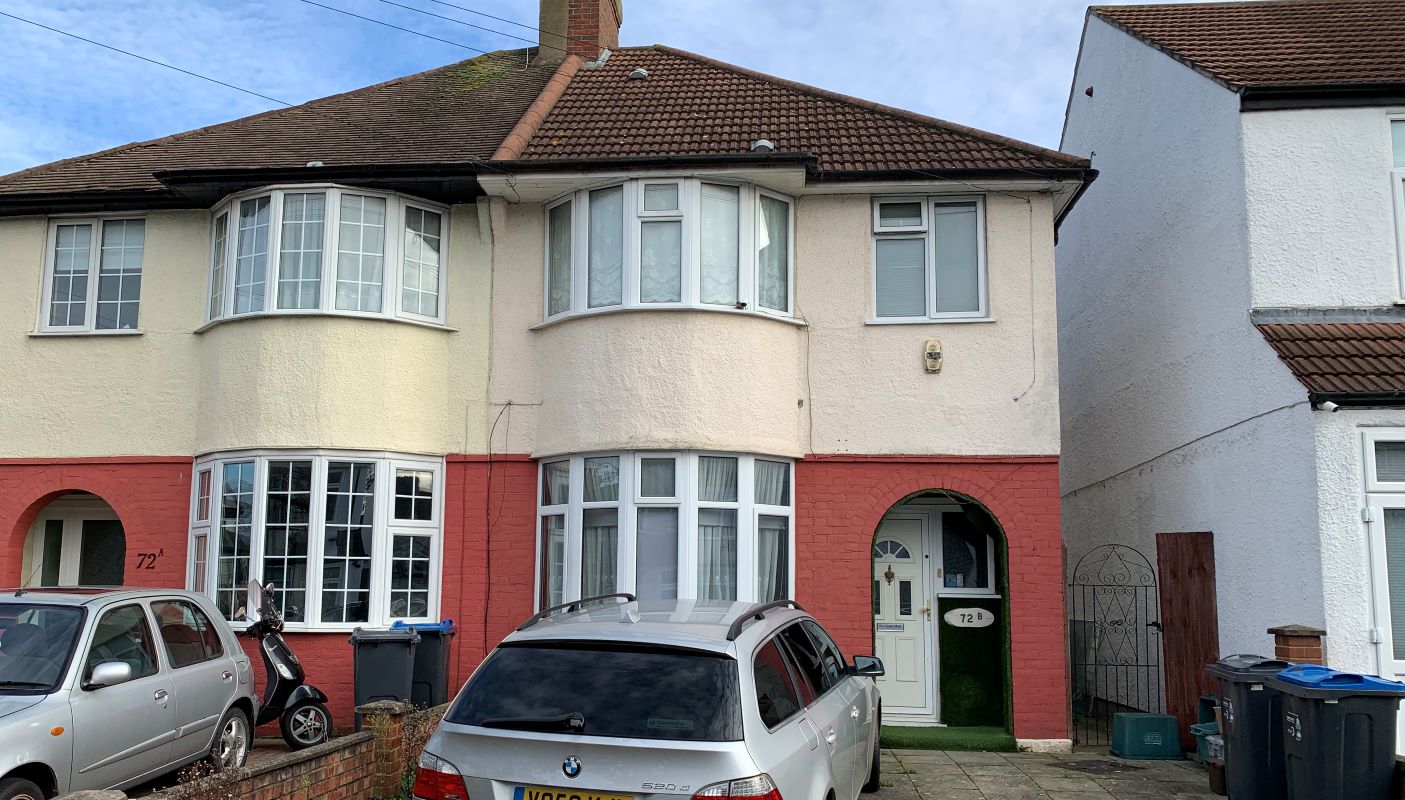 Guide Price: £330,000 - £340,000
Beds: No data
Type: Semi-detached
Tenure: No data
Know what you are buying before you bid with a Legal Pack Summary:
3-5 page Summary
by auction-expert solicitors
Plain English
section by section summary (up to 9 sections)
Key Action alerts
which flag all the fees, issues and risks
Continuous updates
delivered to you right up to auction day
Strettons describes this property as:
BY ORDER OF P Joseph and P Waterfield as LPA Receivers. Norbury is a district in south-west London and the house is on the east side of Beckway Road. A 2 storey semi-detached house close to London Road (A23) and with Norbury mainline station about 15 minutes' walk away.
We are unable to find enough local data to provide good comparisons for this type of property. The data we are providing covers there average for -all- properties
Average sold price:
£447,900
Average asking price:
£592,000
Average price per sq/ft:
£463
| Date | Price | Beds | Address | Distance (miles) |
| --- | --- | --- | --- | --- |
| 01 Oct 2020 | £545,000 | 4 | 82, Norbury Court Road, SW16 4HY | 0.41 |
| 01 Sep 2020 | £427,000 | | 183, Northborough Road, SW16 4BB | 0.21 |
| 05 Aug 2020 | £499,950 | 4 | 75, Hatch Road, SW16 4PW | 0.35 |
| 07 Jul 2020 | £440,000 | 3 | 33, Burley Close, SW16 4QQ | 0.09 |
| 17 Jun 2020 | £485,000 | 3 | 49, Lilian Road, SW16 5HW | 0.51 |
| 04 Jun 2020 | £498,000 | 4 | 98, Manor Road, CR4 1JB | 0.38 |
| 07 Apr 2020 | £355,000 | 2 | 35, Isham Road, SW16 4TH | 0.24 |
| 26 Feb 2020 | £450,000 | 4 | 54, Norbury Cross, SW16 4JQ | 0.29 |
| 03 Feb 2020 | £415,000 | 3 | 106, Carisbrooke Road, CR4 1QE | 0.54 |
| 20 Dec 2019 | £445,000 | 4 | 33, Manor Road, CR4 1JG | 0.52 |
| 17 Dec 2019 | £440,000 | 3 | 26, Hatch Road, SW16 4PN | 0.37 |
| 25 Nov 2019 | £380,000 | 2 | 115, Hassocks Road, SW16 5HA | 0.31 |
| 22 Nov 2019 | £460,000 | 3 | 64, Darcy Road, SW16 4UA | 0.19 |
| 08 Nov 2019 | £425,000 | 3 | 13, Hoylake Gardens, CR4 1ET | 0.42 |
| 23 Oct 2019 | £540,000 | | 17, Beatrice Avenue, SW16 4UW | 0.56 |
| 07 Oct 2019 | £400,000 | 3 | 169, Manor Way, CR4 1EN | 0.25 |
| 20 Sep 2019 | £405,500 | 3 | 150, Rowan Road, SW16 5JQ | 0.32 |
| 12 Sep 2019 | £467,000 | 3 | 49, Semley Road, SW16 4PL | 0.44 |
| 30 Aug 2019 | £440,000 | 3 | 88, Carisbrooke Road, CR4 1QE | 0.57 |
| 02 Aug 2019 | £550,000 | 3 | 31, Croindene Road, SW16 5RE | 0.47 |
We are unable to find enough local data to provide good comparisons for this type of property. The data we are providing covers there average for -all- properties
Average weekly rental: £377
| Weekly Rent | Bedrooms | Property Type | distance (miles) |
| --- | --- | --- | --- |
| £381 | 3 | semi-detached_house | 0.24 |
| £323 | 2 | semi-detached_house | 0.48 |
| £369 | 3 | semi-detached_house | 0.51 |
| £121 | 1 | semi-detached_house | 0.68 |
| £369 | 3 | semi-detached_house | 0.79 |
| £688 | 5 | semi-detached_house | 0.81 |
| £144 | 1 | semi-detached_house | 1.07 |
| £554 | 5 | semi-detached_house | 1.16 |
| £323 | 2 | semi-detached_house | 1.17 |
| £450 | 5 | semi-detached_house | 1.21 |
| £369 | 3 | semi-detached_house | 1.36 |
| £323 | 2 | semi-detached_house | 1.47 |
| £300 | 1 | semi-detached_house | 1.48 |
| £265 | 1 | semi-detached_house | 1.55 |
| £577 | 3 | semi-detached_house | 1.55 |
| £462 | 4 | semi-detached_house | 1.68 |
| £577 | 3 | semi-detached_house | 1.75 |
| £115 | | semi-detached_house | 1.75 |
| £404 | 3 | semi-detached_house | 1.83 |
| £623 | 4 | semi-detached_house | 1.84 |