Ground Rents for 83, 93 and 97 Gressel Lane, Birmingham - B33 9ST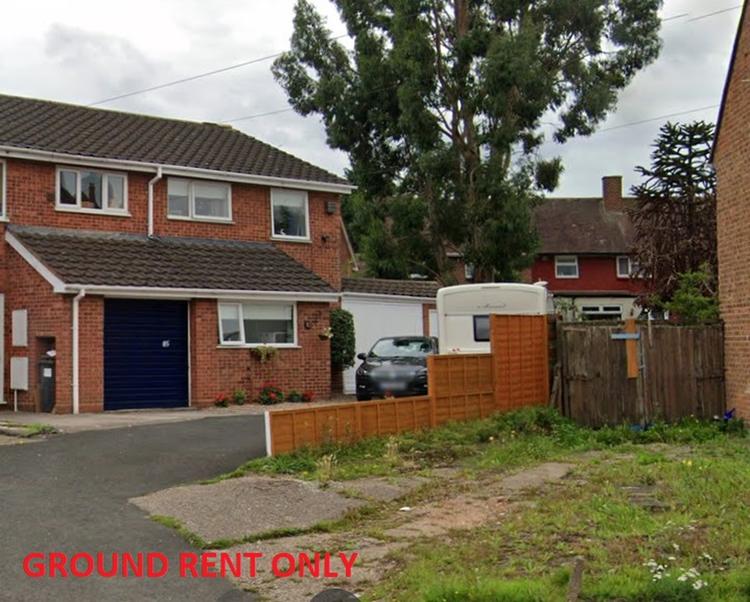 Guide Price: £8,000+ + fees
Beds: No data
Type: No data
Tenure: No data
Know what you are buying before you bid with a Legal Risks & Cost Report:
Costs Summary,
extracted from all sections
Legal Risks Summary,
ranking all identified risks by importance
Legal Risks Detail
- your essential section by section guide to addressing the risks
Express 1-Business-Day Delivery
and free
All-In Updates
- right up to auction day
PLUS,
Property Research Report
(Value £49, now FREE) with comparables, rents, yields and more
SDL Auctions (National) describes this property as:
Ground rents all held on a 99 year leases effective from December 1978. Each pay £60 per annum, with an increase December 2044 to £80 per annum. Interested parties are advised to inspect the legal pack for more information.
We are unable to find enough local data to provide good comparisons for this type of property. The data we are providing covers there average for -all- properties
Average sold price:
£138,865
Average asking price:
£181,495
Average price per sq/ft:
£185
| Date | Price | Beds | Address | Distance (miles) |
| --- | --- | --- | --- | --- |
| 19 Oct 2020 | £152,500 | | 8, Rowley Grove, B33 0AS | 0.19 |
| 16 Oct 2020 | £184,000 | | 81, Gressel Lane, B33 9ST | 0.01 |
| 30 Sep 2020 | £154,000 | 2 | 341, Kitts Green Road, B33 0EH | 0.16 |
| 10 Sep 2020 | £159,950 | | 337, Kitts Green Road, B33 0EH | 0.16 |
| 21 Aug 2020 | £152,000 | 2 | 14, Heynesfield Road, B33 0AE | 0.09 |
| 14 Aug 2020 | £140,000 | 3 | 55, Eatesbrook Road, B33 9TA | 0.11 |
| 08 Jun 2020 | £173,000 | 3 | 95, Moodyscroft Road, B33 0AH | 0.06 |
| 15 May 2020 | £119,000 | | 22, Gressel Lane, B33 9SX | 0.15 |
| 03 Feb 2020 | £63,180 | | 46, Yockleton Road, B33 0EQ | 0.19 |
| 31 Jan 2020 | £177,500 | 3 | 16, Rowley Grove, B33 0AS | 0.19 |
| 24 Jan 2020 | £141,000 | 2 | 24, Heynesfield Road, B33 0AG | 0.07 |
| 20 Dec 2019 | £120,000 | 2 | 6, Eatesbrook Road, B33 9TB | 0.14 |
| 13 Dec 2019 | £135,500 | 3 | 16, Eatesbrook Road, B33 9TB | 0.19 |
| 06 Dec 2019 | £130,250 | 3 | 37, Eatesbrook Road, B33 9TA | 0.15 |
| 07 Nov 2019 | £160,000 | 3 | 80, Moodyscroft Road, B33 0AJ | 0.03 |
| 31 Oct 2019 | £65,000 | | Bishops Court, 23, Flat 1, Birchtrees Drive, B33 0AF | 0.18 |
| 18 Oct 2019 | £135,000 | 3 | 15, Eatesbrook Road, B33 9TA | 0.18 |
| 30 Sep 2019 | £100,000 | 2 | 50, Moodyscroft Road, B33 0AD | 0.10 |
| 10 Sep 2019 | £125,000 | | 75, Gressel Lane, B33 9ST | 0.01 |
| 20 Aug 2019 | £123,400 | 2 | 43, Gressel Lane, B33 9SS | 0.09 |
We are unable to find enough local data to provide good comparisons for this type of property. The data we are providing covers there average for -all- properties
Average weekly rental: £165
| Weekly Rent | Bedrooms | Property Type | distance (miles) |
| --- | --- | --- | --- |
| £179 | 2 | terraced_house | 0.09 |
| £138 | 2 | flat | 0.11 |
| £196 | 3 | semi-detached_house | 0.22 |
| £115 | 1 | detached_house | 0.29 |
| £173 | 3 | terraced_house | 0.49 |
| £185 | 3 | detached_house | 0.59 |
| £115 | | flat | 0.76 |
| £127 | 1 | flat | 0.76 |
| £230 | 4 | terraced_house | 0.77 |
| £150 | | detached_house | 0.79 |
| £173 | 3 | terraced_house | 0.81 |
| £173 | 3 | terraced_house | 0.81 |
| £277 | 2 | semi-detached_house | 0.83 |
| £150 | 2 | terraced_house | 0.84 |
| £179 | 3 | detached_house | 0.85 |
| £150 | 3 | flat | 0.87 |
| £183 | 3 | semi-detached_house | 0.91 |
| £150 | 1 | flat | 0.91 |
| £173 | 3 | semi-detached_house | 0.92 |
| £137 | 1 | flat | 0.95 |