Land on the South West Side of Nottingham Road, Eastwood, Nottingham - NG16 2AQ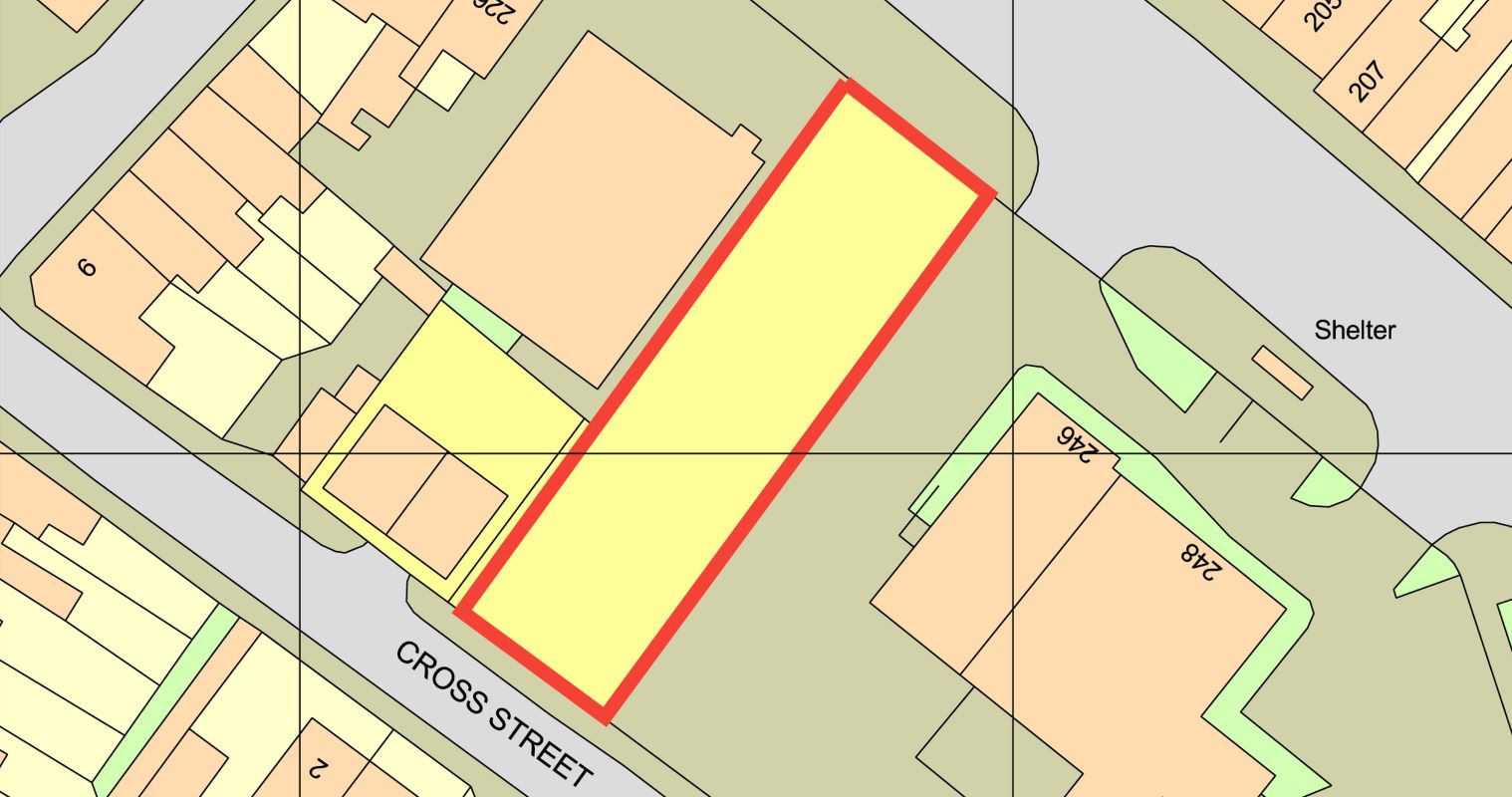 Guide Price: £150,000 - £160,000
Beds: No data
Type: No data
Tenure: freehold
Know what you are buying before you bid with a Legal Risks & Cost Report:
Costs Summary,
extracted from all sections
Legal Risks Summary,
ranking all identified risks by importance
Legal Risks Detail
- your essential section by section guide to addressing the risks
Express 1-Business-Day Delivery
and free
All-In Updates
- right up to auction day
Cottons describes this property as:
A parcel of freehold land rectangular in shape and extending to an area of approximately 574 mtr.sq (6178 sq.ft) the site is located on Nottingham Road adjacent to numbers 246 and 248 being Sainsburys Local and Vets for Pets. The site has Planning Consent granted by Broxtowe Borough Council for the construction of a three storey apartment building containing eight apartments including eight car parking spaces. We have been informed by the vendor that the CIL (Community Infrastructure Levy) is not applicable on this development. ...
We are unable to find enough local data to provide good comparisons for this type of property. The data we are providing covers there average for -all- properties
Average sold price:
£187,800
Average asking price:
£193,000
Average price per sq/ft:
£192
| Date | Price | Beds | Address | Distance (miles) |
| --- | --- | --- | --- | --- |
| 09 Oct 2020 | £125,000 | 2 | 251, Nottingham Road, Eastwood, NG16 2AP | 0.09 |
| 02 Oct 2020 | £220,000 | | 12, Violet Avenue, Newthorpe, NG16 2BL | 0.18 |
| 18 Sep 2020 | £90,000 | 2 | 14, Raglan Street, Eastwood, NG16 3GT | 0.13 |
| 07 Sep 2020 | £199,500 | | 337, Nottingham Road, Eastwood, NG16 2AP | 0.08 |
| 13 Aug 2020 | £159,000 | 2 | 286, Nottingham Road, Eastwood, NG16 2AQ | 0.00 |
| 07 Aug 2020 | £125,000 | | 35, Rockley Avenue, Newthorpe, NG16 2EG | 0.18 |
| 24 Jul 2020 | £175,000 | | 62, Charles Avenue, Eastwood, NG16 2AF | 0.07 |
| 24 Jul 2020 | £231,500 | 2 | 24, Violet Avenue, Newthorpe, NG16 2BL | 0.18 |
| 19 Jun 2020 | £185,000 | | 301, Nottingham Road, Eastwood, NG16 2AP | 0.04 |
| 19 Jun 2020 | £199,000 | 3 | 61, Raglan Street, Eastwood, NG16 3GU | 0.12 |
| 29 Apr 2020 | £350,000 | 4 | 23, Hilltop Rise, Newthorpe, NG16 2GD | 0.16 |
| 14 Feb 2020 | £185,000 | | 5, Violet Avenue, Newthorpe, NG16 2BL | 0.18 |
| 06 Jan 2020 | £220,000 | 4 | 26, Hilltop Rise, Newthorpe, NG16 2GD | 0.16 |
| 13 Dec 2019 | £128,000 | 2 | 191, Newthorpe Common, Newthorpe, NG16 2AW | 0.13 |
| 12 Dec 2019 | £200,000 | | 28, Grey Street, Newthorpe, NG16 2EF | 0.13 |
| 28 Nov 2019 | £175,500 | 3 | 273, Nottingham Road, Eastwood, NG16 2AP | 0.06 |
| 05 Nov 2019 | £270,000 | 4 | 71, Raglan Street, Eastwood, NG16 3GU | 0.14 |
| 04 Oct 2019 | £180,000 | 4 | 303, Nottingham Road, Eastwood, NG16 2AP | 0.03 |
| 27 Sep 2019 | £130,000 | 3 | 169, Newthorpe Common, Newthorpe, NG16 2AW | 0.13 |
| 27 Sep 2019 | £315,000 | 4 | 21, Hilltop Rise, Newthorpe, NG16 2GD | 0.17 |
We are unable to find enough local data to provide good comparisons for this type of property. The data we are providing covers there average for -all- properties
Average weekly rental: £140
| Weekly Rent | Bedrooms | Property Type | distance (miles) |
| --- | --- | --- | --- |
| £92 | 1 | flat | 0.18 |
| £110 | 2 | flat | 0.22 |
| £121 | 2 | terraced_house | 0.39 |
| £162 | 2 | detached_house | 0.45 |
| £120 | 2 | flat | 0.48 |
| £179 | 3 | semi-detached_house | 0.57 |
| £137 | 2 | terraced_house | 0.57 |
| £150 | 3 | semi-detached_house | 0.66 |
| £135 | 2 | semi-detached_house | 0.68 |
| £91 | 1 | flat | 0.79 |
| £194 | 3 | detached_house | 0.82 |
| £162 | 2 | flat | 0.94 |
| £120 | 2 | semi-detached_house | 1.09 |
| £150 | 2 | semi-detached_house | 1.46 |
| £156 | 2 | detached_house | 1.50 |
| £127 | 3 | semi-detached_house | 1.51 |
| £156 | 2 | flat | 1.52 |
| £133 | 2 | flat | 1.59 |
| £144 | 2 | flat | 1.59 |
| £144 | 2 | detached_house | 1.63 |