50 Ringwood Drive, Birmingham - B45 0BJ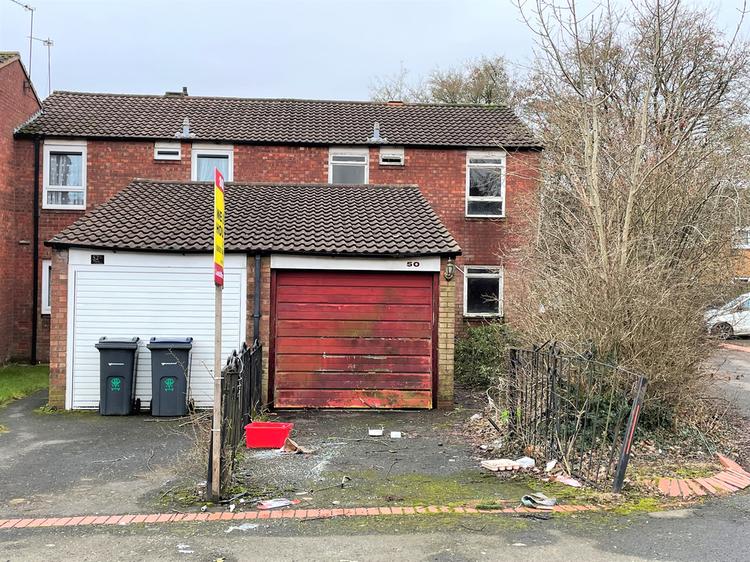 Guide Price: £79,000+ + fees
Beds: No data
Type: No data
Tenure: No data
Know what you are buying before you bid with a Legal Pack Summary:
3-5 page Summary
by auction-expert solicitors
Plain English
section by section summary (up to 9 sections)
Key Action alerts
which flag all the fees, issues and risks
Continuous updates
delivered to you right up to auction day
SDL Auctions (National) describes this property as:
Potential ! Potential ! Potential ! Looking for a project? Look no further ! This property requires a scheme of renovation works in order to fulfil its potential, it also has the added benefit of the option to create a 3rd bedroom (subject to planning permission) a great buy for any investor/developer in the West Mids. This property is set in a quiet & desirable residential location. It is ideal for those looking for a refurbishment project, great location and fantastic potential. It offers two double bedrooms, a breakfast kitchen, lounge/diner and an upstairs bathroom. There is an entrance and a garage that could be developed in to an additional bedroom (subject to planning permission). To the rear there is a garden and to the front there is ample off road parking. ...
We are unable to find enough local data to provide good comparisons for this type of property. The data we are providing covers there average for -all- properties
Average sold price:
£152,295
Average asking price:
£172,490
Average price per sq/ft:
£188
| Date | Price | Beds | Address | Distance (miles) |
| --- | --- | --- | --- | --- |
| 05 Nov 2020 | £375,000 | | 36, Honeysuckle Way, Rubery, B45 9AN | 0.18 |
| 02 Nov 2020 | £127,000 | | 17, Hereford Close, Rubery, B45 0BQ | 0.12 |
| 27 Oct 2020 | £136,000 | 3 | 22, Windsor Close, Rubery, B45 0DA | 0.13 |
| 13 Oct 2020 | £162,000 | 3 | 106, Ringwood Drive, Rubery, B45 0BJ | 0.04 |
| 02 Oct 2020 | £145,000 | | 101, Brightstone Road, Rubery, B45 0DH | 0.21 |
| 12 Aug 2020 | £242,000 | 3 | 44, Rubery Lane, Rubery, B45 9AY | 0.14 |
| 24 Apr 2020 | £222,000 | 3 | 81, Westwood Drive, Rubery, B45 9WF | 0.24 |
| 14 Feb 2020 | £112,500 | | 19, Honeysuckle Way, Rubery, B45 9AN | 0.20 |
| 17 Jan 2020 | £139,950 | | 9, Savernake Close, Rubery, B45 0DD | 0.15 |
| 19 Dec 2019 | £124,950 | 2 | 61, Westwood Drive, Rubery, B45 9WF | 0.24 |
| 06 Dec 2019 | £125,000 | | 12, Apartment 1, Brock Close, Rubery, B45 9AU | 0.18 |
| 29 Nov 2019 | £185,000 | 3 | 26, Rubery Lane, Rubery, B45 9AY | 0.16 |
| 22 Nov 2019 | £235,000 | 3 | 76, Rubery Lane, Rubery, B45 9AY | 0.11 |
| 22 Nov 2019 | £386,000 | 4 | 16, Rubery Field Close, Rubery, B45 9WD | 0.19 |
| 08 Nov 2019 | £130,000 | 3 | 44, Hereford Close, Rubery, B45 0BG | 0.18 |
| 01 Nov 2019 | £143,000 | | 78, Brightstone Road, Rubery, B45 0DH | 0.23 |
| 21 Aug 2019 | £45,000 | | 35, Fabian Close, Rubery, B45 0ET | 0.23 |
| 16 Aug 2019 | £270,000 | 4 | 122, Rubery Lane, Rubery, B45 9AY | 0.15 |
| 16 Aug 2019 | £130,000 | | 16, Apartment 8, Brock Close, Rubery, B45 9AU | 0.16 |
| 16 Aug 2019 | £130,000 | 2 | 12, Wyre Close, Rubery, B45 0BL | 0.23 |
We are unable to find enough local data to provide good comparisons for this type of property. The data we are providing covers there average for -all- properties
Average weekly rental: £160
| Weekly Rent | Bedrooms | Property Type | distance (miles) |
| --- | --- | --- | --- |
| £98 | 1 | flat | 0.14 |
| £156 | 2 | flat | 0.18 |
| £150 | 2 | flat | 0.26 |
| £183 | 3 | terraced_house | 0.56 |
| £219 | 3 | semi-detached_house | 0.56 |
| £190 | 3 | semi-detached_house | 0.64 |
| £127 | 1 | flat | 0.69 |
| £219 | 3 | semi-detached_house | 0.70 |
| £144 | 1 | semi-detached_house | 0.70 |
| £219 | 4 | terraced_house | 0.74 |
| £190 | 4 | semi-detached_house | 0.77 |
| £150 | 2 | flat | 0.78 |
| £120 | 1 | detached_house | 0.82 |
| £202 | 3 | semi-detached_house | 0.87 |
| £185 | 3 | semi-detached_house | 0.93 |
| £196 | 2 | semi-detached_house | 0.93 |
| £121 | | flat | 0.96 |
| £98 | | flat | 0.97 |
| £114 | | flat | 0.97 |
| £98 | | flat | 0.97 |