Plot 38 Bell Lane, Sutton Manor, St. Helens, Merseyside - WA9 4BE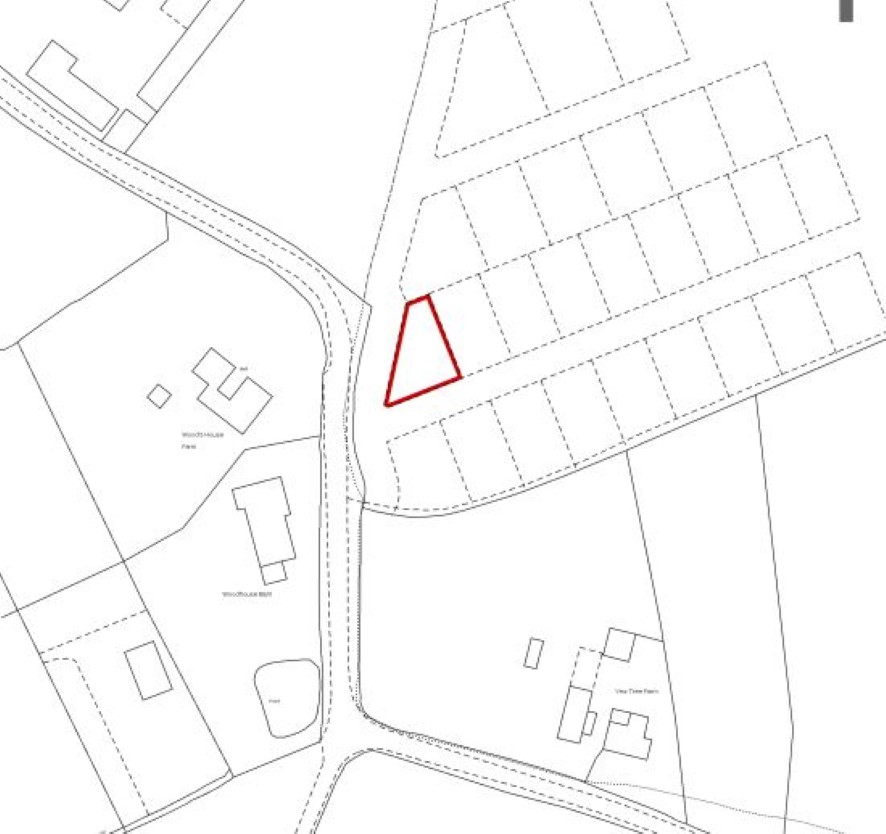 Beds: No data
Type: No data
Tenure: freehold
Know what you are buying before you bid with a Legal Risks & Cost Report:
Costs Summary,
extracted from all sections
Legal Risks Summary,
ranking all identified risks by importance
Legal Risks Detail
- your essential section by section guide to addressing the risks
Express 1-Business-Day Delivery
and free
All-In Updates
- right up to auction day
PLUS,
Property Research Report
(Value £49, now FREE) with comparables, rents, yields and more
Auction House North West describes this property as:
Not inspected but understood to comprise a vacant freehold plot of land extending to approximately 329 m2 in total within a larger sub-divided site. Note The plot is sold with no planning permission and only considered suitable for potential future hope / land value only. Purchasers should satisfy themselves as to the measurements of the plots and enquire with the local council with regard to their intended use. Location Located north of Bell Lane on the east side of School Lane, on the outskirts of Sutton Manor, Merseyside. Interested parties are advised to make their own enquiries as to the exact position of the site. The plot is not marked out on site. Please refer to legal pack. Tenure Freehold Please refer to legal pack for additional fees and the Auction Information document for guidance prior to bidding ...
We are unable to find enough local data to provide good comparisons for this type of property. The data we are providing covers there average for -all- properties
Average sold price:
£110,829
Average asking price:
£142,485
Average price per sq/ft:
£133
| Date | Price | Beds | Address | Distance (miles) |
| --- | --- | --- | --- | --- |
| 16 Oct 2020 | £163,000 | 3 | 12, Burns Road, Sutton Manor, WA9 4AJ | 0.35 |
| 25 Sep 2020 | £115,000 | | 55, Forest Road, Sutton Manor, WA9 4AT | 0.25 |
| 06 Aug 2020 | £371,500 | 4 | Place Farm Cottage, Warrington Road, Rainhill, L35 6PG | 0.66 |
| 15 Jul 2020 | £97,500 | | 15, Kipling Grove, Sutton Manor, WA9 4BN | 0.38 |
| 30 Jun 2020 | £115,500 | 3 | 117, Tennyson Street, Sutton Manor, WA9 4BH | 0.22 |
| 01 May 2020 | £85,000 | 3 | 30, Milton Street, Sutton Manor, WA9 4BG | 0.18 |
| 06 Apr 2020 | £62,000 | | 238, Jubits Lane, Sutton Manor, WA9 4BA | 0.19 |
| 31 Jan 2020 | £122,000 | 3 | 30, Jubits Lane, Sutton Manor, WA9 4RS | 0.62 |
| 21 Jan 2020 | £79,500 | | 13, Tressel Drive, Sutton Manor, WA9 4BS | 0.45 |
| 08 Jan 2020 | £80,000 | | 169, Shakespeare Road, Sutton Manor, WA9 4AL | 0.28 |
| 02 Dec 2019 | £142,000 | 3 | 61, Mooreway, Rainhill, L35 6PD | 0.65 |
| 22 Nov 2019 | £76,000 | 3 | 80, Forest Road, Sutton Manor, WA9 4AT | 0.29 |
| 14 Nov 2019 | £154,000 | | 22, Parkside Avenue, Sutton Manor, WA9 4DT | 0.58 |
| 08 Nov 2019 | £118,000 | | 9, Mcgough Close, Sutton Manor, WA9 4BU | 0.44 |
| 06 Nov 2019 | £110,500 | 3 | 2, Hardie Close, Sutton Manor, WA9 4BX | 0.45 |
| 04 Oct 2019 | £121,786 | 3 | 59, Mooreway, Rainhill, L35 6PD | 0.64 |
| 24 Sep 2019 | £155,000 | 3 | 25, Parkside Avenue, Sutton Manor, WA9 4DT | 0.60 |
| 02 Sep 2019 | £128,000 | 3 | 204, Jubits Lane, Sutton Manor, WA9 4BA | 0.24 |
| 30 Aug 2019 | £80,000 | 3 | 1, Scott Avenue, Sutton Manor, WA9 4AN | 0.30 |
| 23 Aug 2019 | £95,000 | 3 | 48, Forest Road, Sutton Manor, WA9 4AY | 0.26 |
We are unable to find enough local data to provide good comparisons for this type of property. The data we are providing covers there average for -all- properties
Average weekly rental: £147
| Weekly Rent | Bedrooms | Property Type | distance (miles) |
| --- | --- | --- | --- |
| £133 | 3 | terraced_house | 0.98 |
| £185 | 3 | semi-detached_house | 1.00 |
| £185 | 3 | semi-detached_house | 1.07 |
| £137 | 2 | flat | 1.18 |
| £173 | 2 | detached_house | 1.19 |
| £208 | 3 | detached_house | 1.21 |
| £173 | 3 | terraced_house | 1.45 |
| £127 | 2 | flat | 1.46 |
| £150 | 2 | terraced_house | 1.48 |
| £254 | 3 | semi-detached_house | 1.53 |
| £137 | 2 | flat | 1.60 |
| £144 | 3 | semi-detached_house | 1.63 |
| £144 | 3 | terraced_house | 1.64 |
| £185 | 3 | semi-detached_house | 1.65 |
| £133 | 2 | flat | 1.72 |
| £137 | 2 | flat | 1.78 |
| £127 | 2 | terraced_house | 1.81 |
| £114 | 2 | terraced_house | 1.84 |
| £144 | 3 | terraced_house | 1.86 |
| £114 | 2 | terraced_house | 1.88 |