The Apple Yard, 10 Chapel Close, Bedford, Bedfordshire - MK41 0DR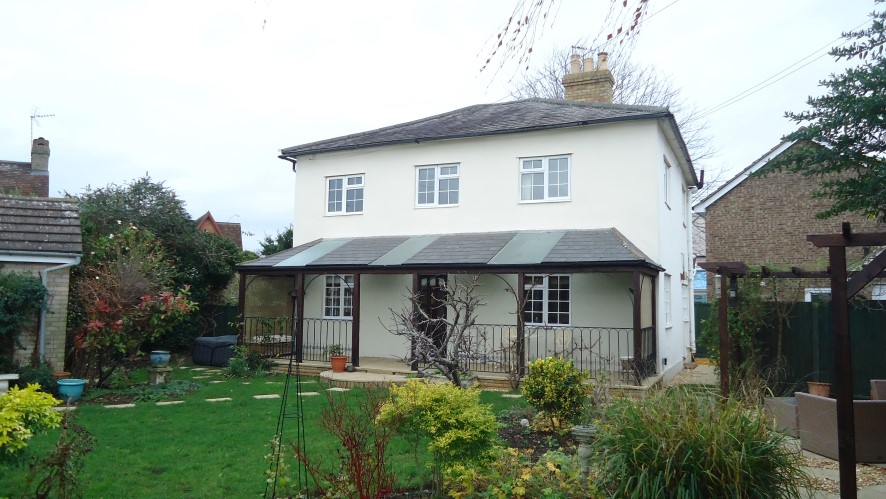 Beds: No data
Type: Detached
Tenure: No data
Know what you are buying before you bid with a Legal Risks & Cost Report:
Costs Summary,
extracted from all sections
Legal Risks Summary,
ranking all identified risks by importance
Legal Risks Detail
- your essential section by section guide to addressing the risks
Express 1-Business-Day Delivery
and free
All-In Updates
- right up to auction day
PLUS,
Property Research Report
(Value £49, now FREE) with comparables, rents, yields and more
Auction House Robinson & Hall describes this property as:
Believed to date back to the 1820s, The Apple Yard is a detached villa with a colonial style veranda extending across the full width of the front elevation and within the house are a number of exposed wall and ceiling timbers plus an open fireplace. The property faces SSW, so the garden enjoys full sunshine for most of the day. The building is set back almost to the rear of the plot, with the gardens to the foreground, well screened from the lane by tall mature hedges that provide a high degree of privacy with access via a gate to the side of the detached brick garage. ...
Auctioneer:
Auction House Robinson & Hall
We are unable to find enough local data to provide good comparisons for this type of property. The data we are providing covers there average for -all- properties
Average sold price:
£360,750
Average asking price:
£398,500
Average price per sq/ft:
£306
| Date | Price | Beds | Address | Distance (miles) |
| --- | --- | --- | --- | --- |
| 09 Nov 2020 | £430,000 | 4 | 6, Easby Abbey, MK41 0WA | 0.37 |
| 21 Sep 2020 | £325,000 | 4 | 13, Donnelly Drive, MK41 9TT | 0.30 |
| 24 Aug 2020 | £450,000 | 3 | 48, Cricket Lane, MK41 9NP | 0.31 |
| 24 Jul 2020 | £265,000 | 3 | 48, Bishops Road, MK41 0SL | 0.23 |
| 05 Jun 2020 | £535,000 | 5 | 12, Gunnersbury Park, MK41 0SX | 0.27 |
| 27 May 2020 | £380,000 | | Karibuni, 37, Harrold Priory, MK41 0SD | 0.32 |
| 19 Mar 2020 | £470,000 | 4 | 27, Portland Close, MK41 9NE | 0.36 |
| 10 Mar 2020 | £470,000 | 4 | 33, King Edward Road, MK41 9SF | 0.24 |
| 28 Feb 2020 | £425,000 | | 21, Lacock Abbey, MK41 0TU | 0.37 |
| 20 Feb 2020 | £270,000 | 3 | 11, Clover Avenue, MK41 0ST | 0.25 |
| 24 Jan 2020 | £375,000 | 4 | 17, Purbeck Close, MK41 9LU | 0.39 |
| 17 Jan 2020 | £284,500 | 3 | 10, Bracken Place, MK41 0TG | 0.14 |
| 20 Dec 2019 | £340,000 | 4 | 12, Bracken Place, MK41 0TG | 0.14 |
| 27 Nov 2019 | £390,000 | 4 | 13, Warden Abbey, MK41 0SW | 0.20 |
| 13 Nov 2019 | £536,000 | 5 | 361, Goldington Road, MK41 0DP | 0.12 |
| 05 Nov 2019 | £290,000 | 3 | 27, Purbeck Close, MK41 9LU | 0.38 |
| 31 Oct 2019 | £332,500 | 4 | Alexandra House, Queen Alexandra Road, MK41 9SE | 0.33 |
| 11 Oct 2019 | £320,000 | | 41a, Portland Close, MK41 9NF | 0.33 |
| 25 Sep 2019 | £260,000 | 2 | 18, Honeysuckle Way, MK41 0TF | 0.16 |
| 20 Aug 2019 | £267,500 | 2 | 38, Portland Close, MK41 9NF | 0.35 |
We are unable to find enough local data to provide good comparisons for this type of property. The data we are providing covers there average for -all- properties
Average weekly rental: £311
| Weekly Rent | Bedrooms | Property Type | distance (miles) |
| --- | --- | --- | --- |
| £185 | 2 | detached_house | 3.10 |
| £242 | 2 | detached_house | 3.42 |
| £299 | 2 | detached_house | 5.55 |
| £340 | 4 | detached_house | 5.89 |
| £277 | 3 | detached_house | 6.02 |
| £323 | 3 | detached_house | 8.41 |
| £254 | 3 | detached_house | 8.54 |
| £358 | 4 | detached_house | 9.00 |
| £162 | 1 | detached_house | 9.44 |
| £230 | 3 | detached_house | 9.78 |
| £323 | 4 | detached_house | 9.80 |
| £323 | 4 | detached_house | 9.93 |
| £288 | 3 | detached_house | 10.03 |
| £358 | 4 | detached_house | 12.11 |
| £345 | 4 | detached_house | 12.12 |
| £358 | 4 | detached_house | 12.16 |
| £462 | 4 | detached_house | 12.35 |
| £195 | 1 | detached_house | 12.74 |
| £335 | 3 | detached_house | 12.78 |
| £415 | 3 | detached_house | 13.12 |