Wix Methodist Church, Colchester Road, Wix, Manningtree, Essex - CO11 2RS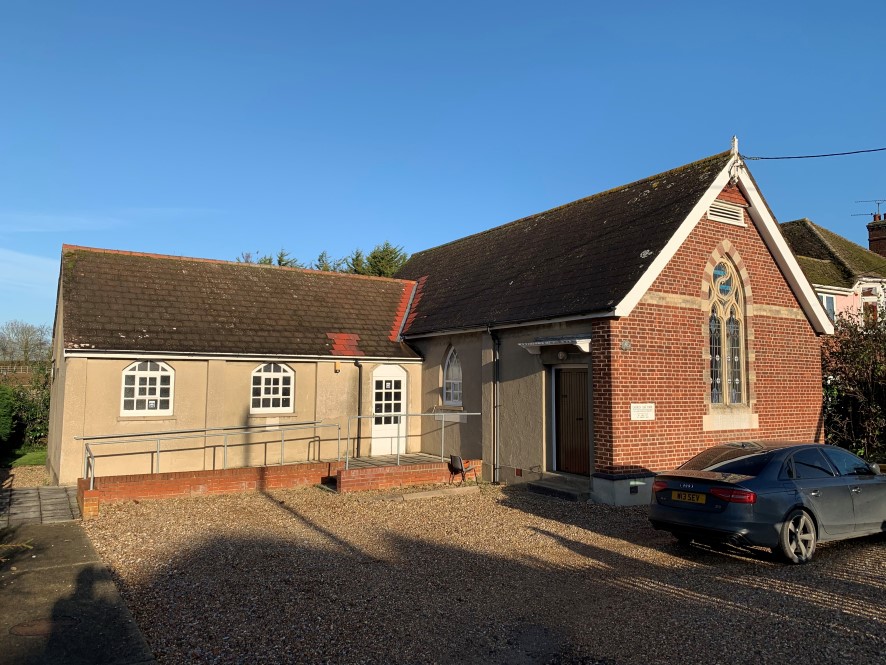 Guide Price: £180,000 - £200,000
Beds: No data
Type: Detached
Tenure: Freehold
Know what you are buying before you bid with a Legal Risks & Cost Report:
Costs Summary,
extracted from all sections
Legal Risks Summary,
ranking all identified risks by importance
Legal Risks Detail
- your essential section by section guide to addressing the risks
Express 1-Business-Day Delivery
and free
All-In Updates
- right up to auction day
PLUS,
Property Research Report
(Value £49, now FREE) with comparables, rents, yields and more
Auction House East Anglia describes this property as:
A former Methodist Church with potential for alternative use. Situated in the north Essex village of Wix some six miles from Harwich and fifteen miles from Colchester is this redundant detached Methodist Church with plenty of parking space to the front and garden to the rear. This single storey property extends to over 1,800 sq ft (68 sq m) with large triple aspect main rooms, arched windows, roof height ceilings and offers great potential for alternative use including residential (subject to Planning Permission).An exciting project for the discerning and imaginative purchaser and strong interest from developers and end users alike is anticipated. ...
Auctioneer:
Auction House East Anglia
We are unable to find enough local data to provide good comparisons for this type of property. The data we are providing covers there average for -all- properties
Average sold price:
£384,100
Average asking price:
£396,500
Average price per sq/ft:
£303
| Date | Price | Beds | Address | Distance (miles) |
| --- | --- | --- | --- | --- |
| 03 Feb 2021 | £385,000 | | Whitfield Lodge, Dairyhouse Lane, Bradfield, CO11 2XB | 1.39 |
| 05 Jan 2021 | £350,000 | | Fourways Cottage, Barrack Street, Bradfield, CO11 2RB | 0.92 |
| 18 Dec 2020 | £290,000 | | The Round House, Stones Green, CO12 5BP | 1.31 |
| 11 Dec 2020 | £447,500 | 5 | Stonecroft, Butlers Lane, Wrabness, CO11 2UE | 1.57 |
| 11 Dec 2020 | £675,000 | 4 | Conifers, Heath Road, Bradfield, CO11 2XL | 1.57 |
| 04 Dec 2020 | £370,000 | 3 | Rose Villa, Stones Green, CO12 5BS | 1.17 |
| 04 Dec 2020 | £400,000 | | White Gates, The Street, Bradfield, CO11 2UU | 1.63 |
| 18 Nov 2020 | £640,000 | 4 | Threadgolds, Heath Road, Bradfield, CO11 2XJ | 1.70 |
| 08 Oct 2020 | £502,500 | | The Hollies, Ellis Road, Bradfield, CO11 2RE | 1.61 |
| 13 Aug 2020 | £470,000 | | Silver Birch Cottage, Steam Mill Road, Bradfield, CO11 2QX | 1.83 |
| 03 Aug 2020 | £245,000 | 3 | 8, Daleview Avenue, Wix, CO11 2SB | 0.18 |
| 09 Jul 2020 | £365,000 | 4 | 6, Abbots Close, CO11 2RW | 0.09 |
| 05 Jun 2020 | £248,000 | | Willowtree Cottage, 1, Harwich Road, Wix, CO11 2RY | 0.20 |
| 28 May 2020 | £307,000 | 3 | North House, Barrack Street, Bradfield, CO11 2RB | 1.70 |
| 09 Apr 2020 | £456,000 | | Glendoveer, Wix Road, Bradfield, CO11 2UX | 1.35 |
| 09 Mar 2020 | £350,000 | | La Cigale, The Street, Bradfield, CO11 2UU | 1.63 |
| 07 Feb 2020 | £385,000 | 4 | Hawthorns, Mill Lane, Bradfield, CO11 2UT | 1.89 |
| 31 Jan 2020 | £490,000 | | 8, Steam Mill Close, Bradfield, CO11 2FF | 1.82 |
| 27 Nov 2019 | £274,000 | | 1, Daleview Avenue, Wix, CO11 2SB | 0.17 |
| 27 Nov 2019 | £332,500 | 3 | Merrow, Steam Mill Road, Bradfield, CO11 2QX | 1.86 |
We are unable to find enough local data to provide good comparisons for this type of property. The data we are providing covers there average for -all- properties
Average weekly rental: £352
| Weekly Rent | Bedrooms | Property Type | distance (miles) |
| --- | --- | --- | --- |
| £635 | 5 | detached_house | 1.89 |
| £253 | 3 | detached_house | 4.67 |
| £207 | 3 | detached_house | 5.87 |
| £317 | 2 | detached_house | 6.20 |
| £208 | 3 | detached_house | 7.31 |
| £531 | 3 | detached_house | 7.31 |
| £369 | 4 | detached_house | 7.84 |
| £322 | 2 | detached_house | 8.11 |
| £462 | 5 | detached_house | 8.13 |
| £253 | 3 | detached_house | 8.56 |
| £438 | 5 | detached_house | 8.97 |
| £438 | 5 | detached_house | 9.01 |
| £675 | 5 | detached_house | 9.01 |
| £600 | 5 | detached_house | 9.38 |
| £254 | 3 | detached_house | 9.43 |
| £207 | 3 | detached_house | 9.80 |
| £375 | 4 | detached_house | 9.84 |
| £254 | 3 | detached_house | 9.86 |
| £519 | 4 | detached_house | 9.99 |
| £288 | 3 | detached_house | 10.00 |