Former Chambers Bus Depot, High Street, Bures, Suffolk - CO8 5AB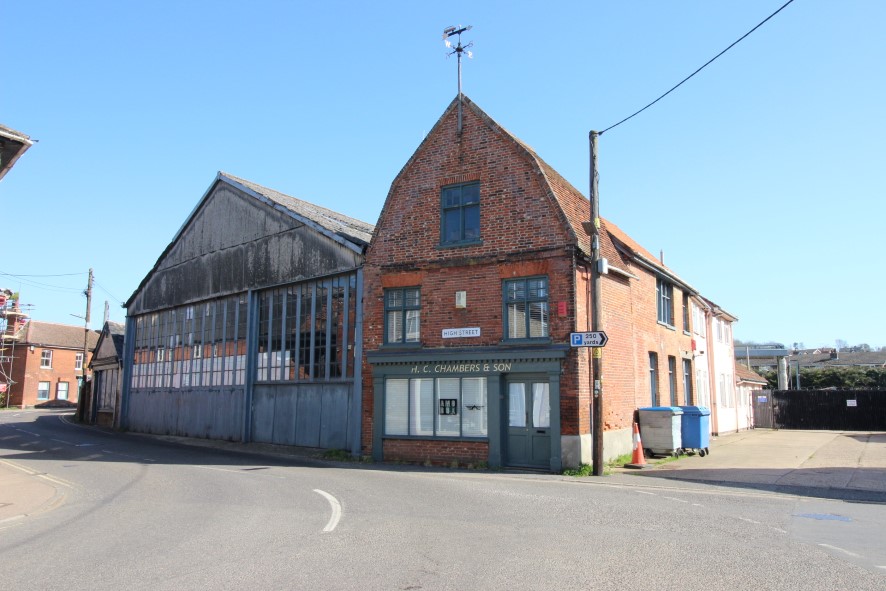 Beds: No data
Type: Detached
Tenure: Freehold
Know what you are buying before you bid with a Legal Risks & Cost Report:
Costs Summary,
extracted from all sections
Legal Risks Summary,
ranking all identified risks by importance
Legal Risks Detail
- your essential section by section guide to addressing the risks
Express 1-Business-Day Delivery
and free
All-In Updates
- right up to auction day
Auction House East Anglia describes this property as:
Former bus depot with workshops, stores and house on a 0.8 acre village centre site. Situated in the heart of this highly desirable village some 9 and 6 miles from Colchester and Sudbury respectively is this former bus depot extending to 0.8 acres (stms) with the benefit from two points of vehicular access onto the highway. H C Chambers coach company operated from the site with a 35 PCV operator's licence (now lapsed) from 1877 until 2013 when the business was sold, the entire property was leased to a pizza oven manufacturer in 2017 until surrender of their lease in early April 2021 and the site is now to be sold with full vacant possession. The former industrial depot buildings extend to over 7,200 sq ft (668.9 sq m) with the office areas and dwelling house providing a further 2,850 sq ft (265 sq m) of accommodation, The property is not listed but is entirely sited within the village conservation area, any enquiries regarding potential future use should be directed to the local planning authority, Babergh District Council. An unquestionably rare opportunity to make an acquisition of this nature. ...
Auctioneer:
Auction House East Anglia
We are unable to find enough local data to provide good comparisons for this type of property. The data we are providing covers there average for -all- properties
Average sold price:
£573,080
Average asking price:
£422,500
Average price per sq/ft:
£298
| Date | Price | Beds | Address | Distance (miles) |
| --- | --- | --- | --- | --- |
| 18 Dec 2020 | £950,000 | 4 | St. Edmunds House, St Edmunds Lane, CO8 5LA | 0.45 |
| 14 Dec 2020 | £675,000 | 2 | Oak Lodge, Church Road, Wormingford, CO6 3AZ | 1.91 |
| 25 Nov 2020 | £535,000 | 4 | Ashton House, Inworth Lane, Wakes Colne, CO6 2BE | 2.10 |
| 09 Nov 2020 | £625,000 | 4 | Mountview, Craigs Lane, Mount Bures, CO8 5AN | 0.88 |
| 09 Oct 2020 | £355,000 | | 3, Pikes Marsh, CO8 5AQ | 0.12 |
| 08 Sep 2020 | £840,000 | | Hobbs Well Cottage, Mount Bures, CO8 5AP | 1.22 |
| 04 Sep 2020 | £2,550,000 | | Corn Hall, Sudbury Road, CO8 5JP | 0.21 |
| 31 Jul 2020 | £970,000 | | Kingsbury House, Upper Road, Little Cornard, CO10 0NZ | 2.17 |
| 17 Jul 2020 | £287,500 | 3 | 18, Cambridge Way, CO8 5BG | 0.38 |
| 15 Jul 2020 | £1,275,000 | 6 | Oak House, Lamarsh Road, Alphamstone, CO8 5HS | 1.57 |
| 10 Jul 2020 | £460,000 | | 4, Apple Tree Mews, CO8 5HX | 0.14 |
| 03 Jul 2020 | £735,000 | 5 | 3, Chantry Drive, Wormingford, CO6 3FD | 2.14 |
| 30 Jun 2020 | £448,995 | | Valley Green Cottage, Mount Bures, CO8 5AP | 1.17 |
| 08 Apr 2020 | £396,800 | | 3, Hamlet Court, CO8 5BD | 0.20 |
| 07 Apr 2020 | £725,000 | 4 | The Dell, Church Road, Wormingford, CO6 3AZ | 1.95 |
| 01 Apr 2020 | £675,000 | 4 | The Doctors House, High Street, CO8 5HZ | 0.06 |
| 27 Mar 2020 | £180,000 | | 20, Friends Field, CO8 5LH | 0.11 |
| 17 Mar 2020 | £455,000 | 3 | 3, Station Hill, CO8 5DD | 0.17 |
| 18 Dec 2019 | £380,000 | | 4, St Edmunds Close, Assington, CO10 5AJ | 0.43 |
| 29 Nov 2019 | £378,000 | 2 | Pretty Penny, Upper Road, Little Cornard, CO10 0NZ | 2.17 |
We are unable to find enough local data to provide good comparisons for this type of property. The data we are providing covers there average for -all- properties
Average weekly rental: £402
| Weekly Rent | Bedrooms | Property Type | distance (miles) |
| --- | --- | --- | --- |
| £219 | 2 | detached_house | 3.72 |
| £323 | 4 | detached_house | 4.36 |
| £462 | 4 | detached_house | 4.87 |
| £519 | 4 | detached_house | 6.10 |
| £275 | 3 | detached_house | 6.25 |
| £375 | 4 | detached_house | 6.74 |
| £288 | 3 | detached_house | 6.75 |
| £369 | 4 | detached_house | 7.10 |
| £254 | 3 | detached_house | 7.16 |
| £277 | 3 | detached_house | 7.17 |
| £646 | 5 | detached_house | 7.35 |
| £554 | 5 | detached_house | 7.73 |
| £323 | 4 | detached_house | 8.12 |
| £450 | 4 | detached_house | 8.31 |
| £322 | 2 | detached_house | 8.40 |
| £531 | 3 | detached_house | 8.80 |
| £600 | 5 | detached_house | 8.93 |
| £675 | 5 | detached_house | 9.16 |
| £438 | 5 | detached_house | 9.17 |
| £438 | 5 | detached_house | 9.20 |