51 Market Place, Wisbech, Cambridgeshire - PE13 1DP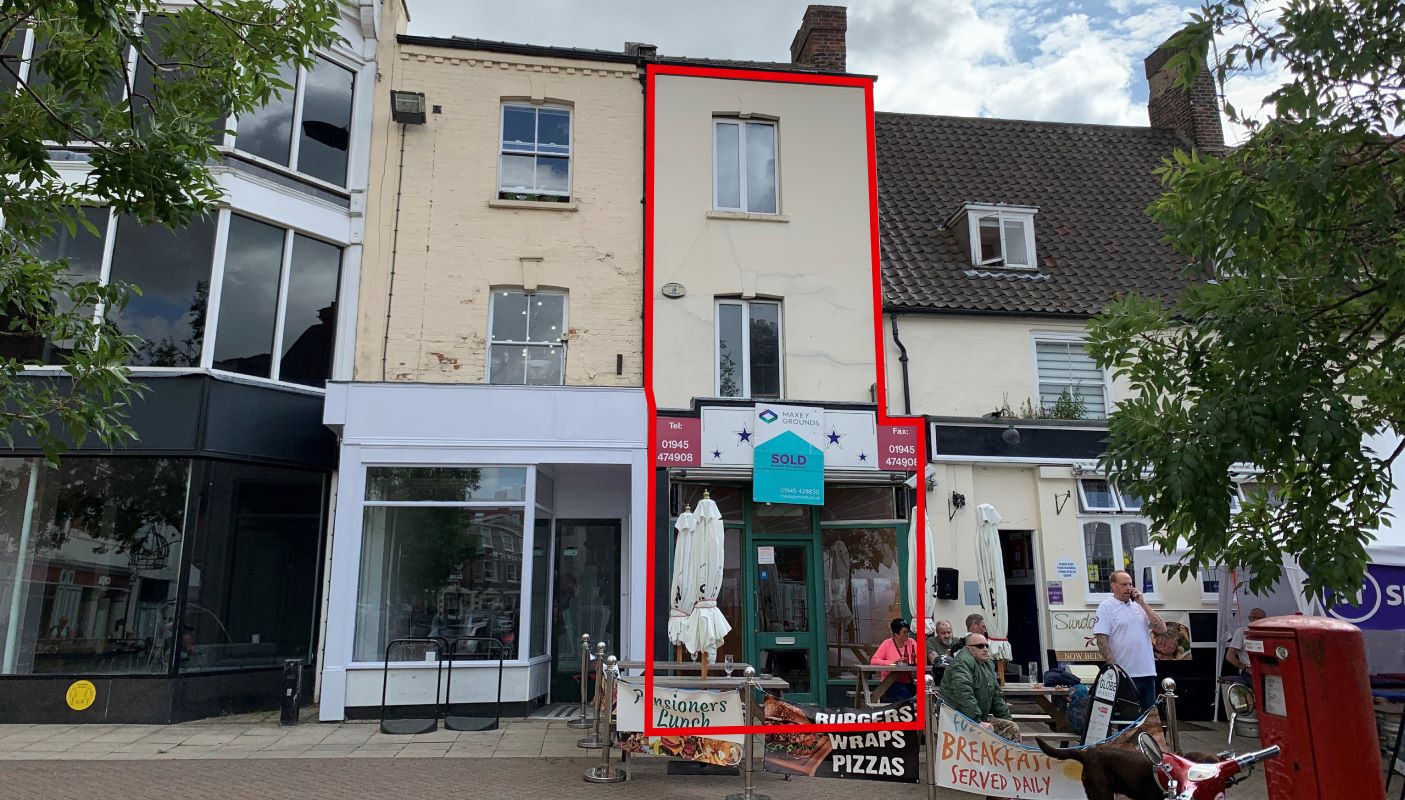 Guide Price: £80,000 - £90,000
Beds: No data
Type: Terraced
Tenure: Freehold
Know what you are buying before you bid with a Legal Risks & Cost Report:
Costs Summary,
extracted from all sections
Legal Risks Summary,
ranking all identified risks by importance
Legal Risks Detail
- your essential section by section guide to addressing the risks
Express 1-Business-Day Delivery
and free
All-In Updates
- right up to auction day
Strettons describes this property as:
A three storey terraced property comprising a ground floor shop (with two street access points) basement and two upper floors accessed internally. Other occupiers nearby include Specsavers, Costa Coffee, Sue Ryder and H & T Pawnbrokers. Wisbech is located approximately midway between Peterborough and Kings Lynn and is easily located via The A47.
We are unable to find enough local data to provide good comparisons for this type of property. The data we are providing covers there average for -all- properties
Average sold price:
£118,350
Average asking price:
£139,500
Average price per sq/ft:
£139
| Date | Price | Beds | Address | Distance (miles) |
| --- | --- | --- | --- | --- |
| 24 Mar 2021 | £99,995 | | 8, Hill Street, PE13 1BA | 0.10 |
| 26 Feb 2021 | £106,000 | 2 | 21, Cannon Street, PE13 2QW | 0.29 |
| 26 Feb 2021 | £98,000 | | 14, Charles Street, PE13 2QN | 0.35 |
| 17 Feb 2021 | £127,500 | 2 | 9, Henry Street, PE13 3AG | 0.15 |
| 22 Jan 2021 | £125,000 | 3 | 22, Marsh Walk, PE13 2DR | 0.18 |
| 12 Jan 2021 | £140,000 | 3 | 11, Henry Street, PE13 3AG | 0.16 |
| 21 Dec 2020 | £252,000 | 3 | 73, Ramnoth Road, PE13 2JB | 0.46 |
| 18 Dec 2020 | £250,000 | 4 | 11, St Augustines Road, PE13 3AH | 0.17 |
| 30 Nov 2020 | £99,000 | 2 | 32, Verdun Road, PE13 2DU | 0.25 |
| 30 Sep 2020 | £115,000 | | 1, Lewellen Terrace, PE13 3AT | 0.41 |
| 18 Sep 2020 | £112,500 | 2 | 17, Cordon Street, PE13 2LW | 0.45 |
| 14 Sep 2020 | £170,000 | | 19, Elm Road, PE13 2TB | 0.41 |
| 11 Sep 2020 | £192,000 | 3 | 30, North Brink, PE13 1JR | 0.33 |
| 06 Aug 2020 | £113,000 | 2 | 18, The Lawns, PE13 1SW | 0.48 |
| 31 Jul 2020 | £101,000 | 2 | 17, Verdun Road, PE13 2DU | 0.26 |
| 05 Jun 2020 | £98,000 | 2 | 8, Prince Street, PE13 2AY | 0.30 |
| 19 May 2020 | £155,000 | 5 | 2, Union Place, PE13 1HB | 0.06 |
| 27 Mar 2020 | £143,500 | 4 | 9, Wilberforce Road, PE13 2EU | 0.43 |
| 25 Mar 2020 | £74,000 | 2 | 7, Blencowe Terrace, PE13 2DP | 0.14 |
| 20 Mar 2020 | £100,000 | 3 | 16, Cordon Street, PE13 2LW | 0.44 |
We are unable to find enough local data to provide good comparisons for this type of property. The data we are providing covers there average for -all- properties
Average weekly rental: £166
| Weekly Rent | Bedrooms | Property Type | distance (miles) |
| --- | --- | --- | --- |
| £288 | 5 | terraced_house | 0.07 |
| £167 | 2 | terraced_house | 0.65 |
| £208 | 4 | terraced_house | 0.76 |
| £144 | 2 | terraced_house | 7.49 |
| £133 | 2 | terraced_house | 8.16 |
| £167 | 3 | terraced_house | 9.54 |
| £183 | 2 | terraced_house | 11.31 |
| £156 | 2 | terraced_house | 11.55 |
| £171 | 2 | terraced_house | 11.70 |
| £207 | 3 | terraced_house | 12.10 |
| £144 | 1 | terraced_house | 12.78 |
| £156 | 1 | terraced_house | 13.03 |
| £160 | 2 | terraced_house | 13.87 |
| £170 | 2 | terraced_house | 14.42 |
| £173 | 3 | terraced_house | 14.84 |
| £162 | 2 | terraced_house | 14.92 |
| £160 | 2 | terraced_house | 15.01 |
| £167 | 2 | terraced_house | 15.16 |
| £162 | 2 | terraced_house | 15.39 |
| £175 | 2 | terraced_house | 15.44 |