76 Higher Market Street, Farnworth, Bolton, Lancashire - BL4 9BB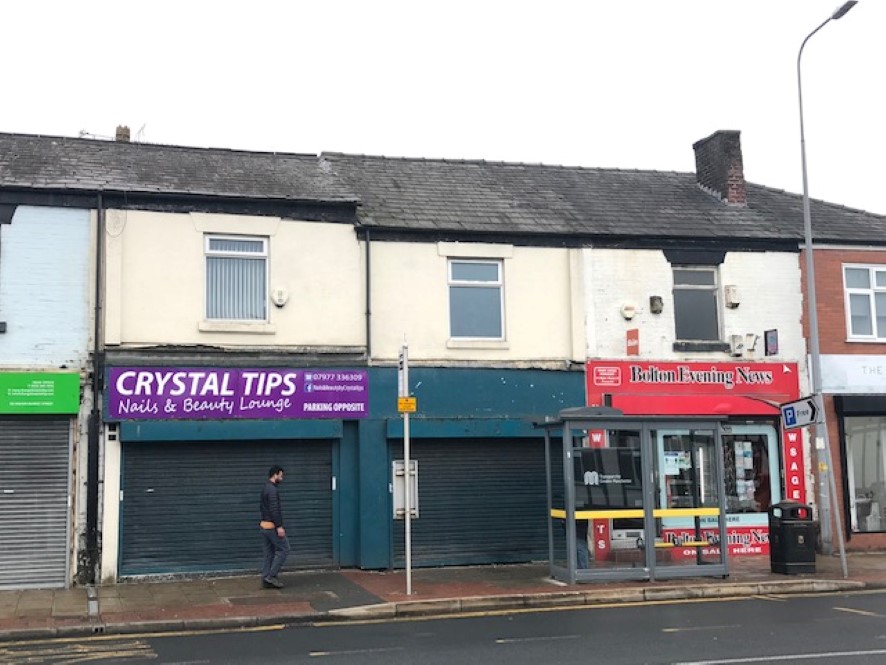 Beds: No data
Type: Terraced
Tenure: Freehold
Know what you are buying before you bid with a Legal Risks & Cost Report:
Costs Summary,
extracted from all sections
Legal Risks Summary,
ranking all identified risks by importance
Legal Risks Detail
- your essential section by section guide to addressing the risks
Express 1-Business-Day Delivery
and free
All-In Updates
- right up to auction day
Auction House North West describes this property as:
Two storey Retail / Commercial Unit – With A3 Takeaway Consent – Potential To Convert Upper Floor To Residential (STP)Mid terrace two storey retail/commercial unit considered suitable for a variety of uses. The property briefly comprises ground floor open plan sales area with kitchen and WC to the rear. The first floor is open plan providing additional office/storage space which could be converted to residential if reconfigured and subject to the required consents being obtained. Externally there is a rear yard area which could utilised for private/off-road parking and access to a substantial basement cellar. Benefitting from powder coated aluminum shop front protected by electrically operated security shutters. Location. Situated fronting Higher market Street, the main thoroughfare in the centre of Farnworth. Farnworth town centre is set to be transformed with £50 million investment plans submitted by the developers Capital & Centric on the site of the former Farnworth market precinct, between Brackley Street and King Street. Please refer to legal pack for additional fees and the Auction Information document for guidance prior to bidding. ...
We are unable to find enough local data to provide good comparisons for this type of property. The data we are providing covers there average for -all- properties
Average sold price:
£111,505
Average asking price:
£120,650
Average price per sq/ft:
£131
| Date | Price | Beds | Address | Distance (miles) |
| --- | --- | --- | --- | --- |
| 02 Jul 2021 | £148,500 | 2 | 93, Kildare Street, Farnworth, BL4 9NX | 0.58 |
| 18 Jun 2021 | £103,000 | | 105, Bridge Street, Farnworth, BL4 7RS | 0.42 |
| 07 May 2021 | £95,550 | | 50, St Germain Street, Farnworth, BL4 7BG | 0.48 |
| 04 May 2021 | £85,000 | | 16, Gladstone Road, Farnworth, BL4 7EH | 0.63 |
| 28 Apr 2021 | £197,500 | | 63, Grosvenor Street, Kearsley, BL4 8DP | 0.30 |
| 06 Apr 2021 | £158,000 | 3 | 3, Dorset Close, Farnworth, BL4 9TR | 0.44 |
| 17 Feb 2021 | £100,000 | 2 | 99, St Germain Street, Farnworth, BL4 7BQ | 0.54 |
| 14 Jan 2021 | £70,000 | 3 | 63, Gladstone Road, Farnworth, BL4 7EL | 0.60 |
| 14 Dec 2020 | £97,000 | 3 | 55, St Germain Street, Farnworth, BL4 7BG | 0.48 |
| 11 Dec 2020 | £110,000 | 2 | 7, Greenside, Farnworth, BL4 7EW | 0.59 |
| 08 Dec 2020 | £153,000 | 3 | 32, Dixon Green Drive, Farnworth, BL4 7EE | 0.76 |
| 30 Oct 2020 | £133,000 | 3 | 171, Grosvenor Street, Kearsley, BL4 8DP | 0.54 |
| 16 Oct 2020 | £95,000 | | 85, Kildare Street, Farnworth, BL4 9NX | 0.57 |
| 16 Oct 2020 | £340,000 | | 6, Victoria Road, Kearsley, BL4 8NR | 0.67 |
| 11 Sep 2020 | £98,000 | 3 | 11, Westminster Walk, Farnworth, BL4 7UQ | 0.68 |
| 04 Sep 2020 | £115,000 | 2 | 24, Dixon Green Drive, Farnworth, BL4 7EE | 0.73 |
| 20 Aug 2020 | £150,000 | 3 | 41, Dixon Green Drive, Farnworth, BL4 7EE | 0.75 |
| 24 Jul 2020 | £87,000 | 2 | 58b, St Germain Street, Farnworth, BL4 7BG | 0.48 |
| 17 Jul 2020 | £115,000 | 3 | 6, Lime Street, Farnworth, BL4 8AF | 0.29 |
| 10 Jul 2020 | £93,750 | 3 | 26, Hall Lane, Farnworth, BL4 7QE | 0.78 |
We are unable to find enough local data to provide good comparisons for this type of property. The data we are providing covers there average for -all- properties
Average weekly rental: £162
| Weekly Rent | Bedrooms | Property Type | distance (miles) |
| --- | --- | --- | --- |
| £150 | 2 | terraced_house | 0.80 |
| £173 | 2 | terraced_house | 1.02 |
| £173 | 3 | terraced_house | 1.31 |
| £133 | 2 | terraced_house | 1.42 |
| £138 | 2 | terraced_house | 1.49 |
| £219 | 3 | terraced_house | 1.53 |
| £217 | 3 | terraced_house | 1.57 |
| £105 | 4 | terraced_house | 1.58 |
| £138 | 2 | terraced_house | 1.59 |
| £160 | 2 | terraced_house | 1.62 |
| £192 | 3 | terraced_house | 1.65 |
| £160 | 2 | terraced_house | 1.68 |
| £137 | 2 | terraced_house | 1.70 |
| £138 | 2 | terraced_house | 1.73 |
| £219 | 3 | terraced_house | 1.89 |
| £167 | 3 | terraced_house | 2.04 |
| £207 | 2 | terraced_house | 2.12 |
| £138 | 5 | terraced_house | 2.13 |
| £690 | 5 | terraced_house | 2.13 |
| £173 | 3 | terraced_house | 2.28 |