Plot 159 Akeman Street, Kingswood, Aylesbury, Buckinghamshire - HP18 0RD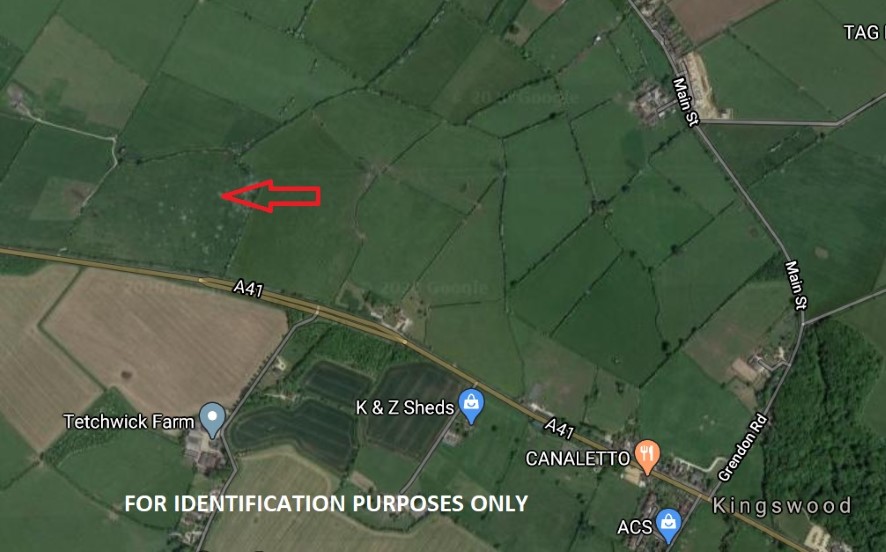 Beds: No data
Type: No data
Tenure: freehold
Know what you are buying before you bid with a Legal Risks & Cost Report:
Costs Summary,
extracted from all sections
Legal Risks Summary,
ranking all identified risks by importance
Legal Risks Detail
- your essential section by section guide to addressing the risks
Express 1-Business-Day Delivery
and free
All-In Updates
- right up to auction day
Auction House North West describes this property as:
Not inspected but understood to comprise a freehold vacant plot of land approximately 0.05 acres (210 sq m) in total within a larger site situated to the North of Akeman Street (A41) opposite the land at Tetchwick Farm. The plot is sold with no planning permission and purchasers should satisfy themselves as to the measurements of the plots and enquire with the local council with regard to their intended use. Located North of Akeman Street, opposite land at Tetchwick Farm, West of Kingswood, Aylesbury. ...
We are unable to find enough local data to provide good comparisons for this type of property. The data we are providing covers there average for -all- properties
Average sold price:
£515,500
Average asking price:
£595,500
Average price per sq/ft:
£370
| Date | Price | Beds | Address | Distance (miles) |
| --- | --- | --- | --- | --- |
| 25 Mar 2020 | £390,000 | | 12, Rosamonds Cottages, Kingswood, HP18 0RG | 0.64 |
| 03 Feb 2020 | £530,000 | 2 | West End, Main Street, Grendon Underwood, HP18 0SP | 1.02 |
| 15 Jan 2020 | £335,000 | 3 | Portway, Main Street, Grendon Underwood, HP18 0SL | 0.96 |
| 09 Dec 2019 | £550,000 | 4 | 2, Rickyard Grove, Grendon Underwood, HP18 0SF | 0.89 |
| 22 Oct 2019 | £499,995 | | 13, Leonards Gate, Grendon Underwood, HP18 0WA | 0.84 |
| 06 Sep 2019 | £650,000 | | 8, Leonards Gate, Grendon Underwood, HP18 0WA | 0.84 |
| 23 Aug 2019 | £675,000 | 5 | 3, George Court, Grendon Underwood, HP18 0YJ | 0.91 |
| 06 Aug 2019 | £945,000 | | The Grove, Main Street, Grendon Underwood, HP18 0SL | 0.94 |
| 24 Jul 2019 | £575,000 | 4 | 3, The Firs, Grendon Underwood, HP18 0RW | 0.96 |
| 17 Jul 2019 | £705,000 | | Tetchwick, St. Johns Barn, Bicester Road, Kingswood, HP18 0RD | 0.00 |
| 28 Jun 2019 | £322,500 | | 9, Leonards Gate, Grendon Underwood, HP18 0WA | 0.85 |
| 28 Jun 2019 | £325,000 | | 11, Leonards Gate, Grendon Underwood, HP18 0WA | 0.85 |
| 28 Jun 2019 | £650,000 | | 2, Leonards Gate, Grendon Underwood, HP18 0WA | 0.85 |
| 14 Jun 2019 | £320,000 | | 4, Leonards Gate, Grendon Underwood, HP18 0WA | 0.85 |
| 30 May 2019 | £650,000 | | 7, Leonards Gate, Grendon Underwood, HP18 0WA | 0.85 |
| 09 May 2019 | £310,000 | | 6, Leonards Gate, Grendon Underwood, HP18 0WA | 0.85 |
| 24 Apr 2019 | £270,000 | 3 | Kingslea, Main Street, Grendon Underwood, HP18 0SJ | 0.90 |
| 18 Apr 2019 | £650,000 | | 14, Leonards Gate, Grendon Underwood, HP18 0WA | 0.85 |
| 17 Apr 2019 | £710,000 | | 1, Leonards Gate, Grendon Underwood, HP18 0WA | 0.85 |
| 05 Apr 2019 | £300,000 | | 10, Leonards Gate, Grendon Underwood, HP18 0WA | 0.85 |
We are unable to find enough local data to provide good comparisons for this type of property. The data we are providing covers there average for -all- properties
Average weekly rental: £214
| Weekly Rent | Bedrooms | Property Type | distance (miles) |
| --- | --- | --- | --- |
| £635 | 4 | detached_house | 0.90 |
| £158 | 1 | detached_house | 1.05 |
| £160 | 1 | detached_house | 1.29 |
| £340 | 3 | detached_house | 2.83 |
| £276 | 3 | detached_house | 3.28 |
| £554 | 4 | detached_house | 3.58 |
| £173 | 1 | flat | 4.18 |
| £185 | 2 | detached_house | 4.18 |
| £213 | 2 | terraced_house | 4.18 |
| £300 | 3 | semi-detached_house | 4.20 |
| £346 | 4 | detached_house | 4.22 |
| £213 | 2 | detached_house | 4.24 |
| £179 | 2 | detached_house | 4.24 |
| £127 | 1 | detached_house | 4.39 |
| £150 | 2 | detached_house | 4.40 |
| £219 | 2 | semi-detached_house | 4.77 |
| £219 | 2 | detached_house | 4.79 |
| £323 | 3 | detached_house | 4.80 |
| £150 | 1 | detached_house | 4.95 |
| £162 | 1 | flat | 5.02 |