2 Church Road, Northenden, Manchester, Greater Manchester - M22 4WL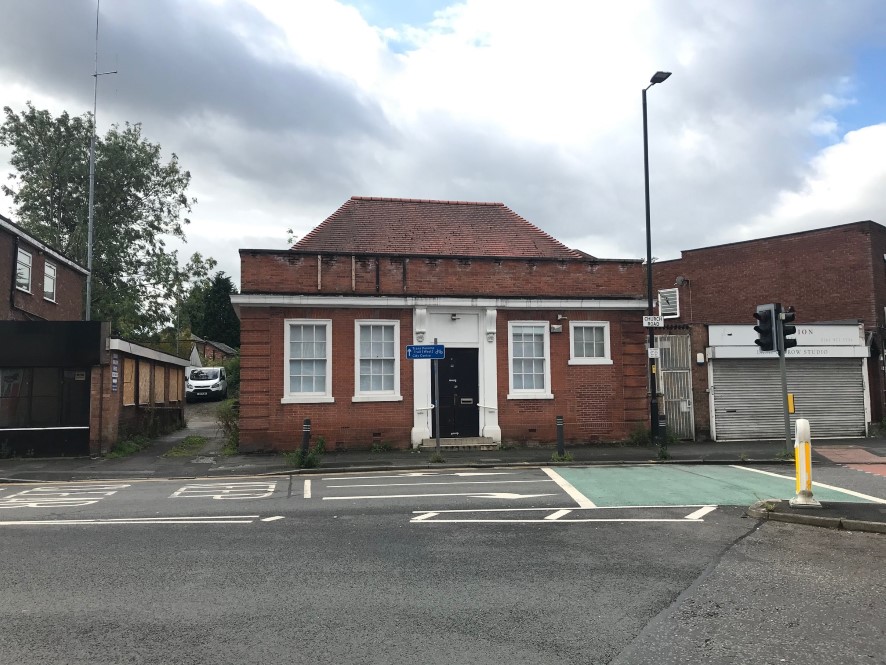 Beds: No data
Type: Detached
Tenure: No data
Know what you are buying before you bid with a Legal Risks & Cost Report:
Costs Summary,
extracted from all sections
Legal Risks Summary,
ranking all identified risks by importance
Legal Risks Detail
- your essential section by section guide to addressing the risks
Express 1-Business-Day Delivery
and free
All-In Updates
- right up to auction day
Auction House North West describes this property as:
Description Comprising a detached single storey former bank premises of brick construction and detached single storey rear store. Accommodation The ground floor provides mainly open-plan retail / office accommodation with 2x partitioned offices, storage/vault and 2x further storage rooms. A staircase to the rear leads to the first floor which provides a kitchen / staff room plus ladies and gents w.c.'s. The accommodation is in shell condition. Externally, the property benefits from a small enclosed rear yard and detached single storey storage building. The Net Internal Area measures as follows: Ground Floor Main Sales Area: 110.44 sq m (1,188 sq ft) Front Office: 13.15 sq m (141 sq ft) Side Office: 10.44 sq m (112 sq ft) Vault: 10.72 sq m (115.39 sq ft) Side Store: 6.85 sq m (73.73 sq ft) Rear Store: 12.23 sq m (131 sq ft) First Floor Kitchen / Staff Area: 14.1 sq m (151 sq ft) Total Net Internal Area: 177.93 sq m (1,915 sq ft) ...
We are unable to find enough local data to provide good comparisons for this type of property. The data we are providing covers there average for -all- properties
Average sold price:
£358,900
Average asking price:
£420,490
Average price per sq/ft:
£269
| Date | Price | Beds | Address | Distance (miles) |
| --- | --- | --- | --- | --- |
| 31 Jul 2020 | £250,000 | | 20, Bronington Close, M22 4ZQ | 0.54 |
| 17 Jul 2020 | £420,000 | | 6, Shawdene Road, M22 4BU | 0.31 |
| 15 Jul 2020 | £460,000 | | 4, Netherwood Road, M22 4BQ | 0.43 |
| 26 Jun 2020 | £495,000 | | 40, Gibwood Road, M22 4BS | 0.41 |
| 15 Jun 2020 | £263,000 | | 4, Grosvenor Gardens, M22 4XA | 0.99 |
| 27 Feb 2020 | £240,000 | 2 | 8, Redburn Road, M23 1AJ | 0.82 |
| 10 Jan 2020 | £425,000 | 4 | 16, Bartley Road, M22 4BG | 0.38 |
| 20 Dec 2019 | £325,000 | 3 | 69, Homewood Road, M22 4DG | 0.37 |
| 13 Dec 2019 | £110,000 | 1 | 35, Longley Lane, M22 4JD | 0.16 |
| 09 Dec 2019 | £377,000 | 4 | 73, Homewood Road, M22 4DG | 0.38 |
| 23 Oct 2019 | £345,000 | | 8, The Pines, M23 0NZ | 0.74 |
| 23 Oct 2019 | £345,000 | | 8, The Pines, M23 0NZ | 0.74 |
| 30 Sep 2019 | £265,000 | 3 | 15, Sandacre Road, M23 1AE | 0.89 |
| 13 Sep 2019 | £315,000 | 4 | 35, Partridge Avenue, M23 1PL | 0.96 |
| 30 Aug 2019 | £242,500 | 3 | 6, Bronington Close, M22 4ZQ | 0.54 |
| 08 Aug 2019 | £500,000 | 4 | 198, Wythenshawe Road, M23 0PF | 0.90 |
| 29 Jul 2019 | £312,000 | 3 | 4, Lanark Avenue, M22 4NJ | 0.10 |
| 12 Jul 2019 | £465,000 | 5 | 29, Netherwood Road, M22 4BW | 0.53 |
| 27 Jun 2019 | £1,150,000 | | 200, Palatine Road, M20 2WG | 0.86 |
| 06 Jun 2019 | £645,000 | 5 | 39, Netherwood Road, M22 4BW | 0.53 |
We are unable to find enough local data to provide good comparisons for this type of property. The data we are providing covers there average for -all- properties
Average weekly rental: £376
| Weekly Rent | Bedrooms | Property Type | distance (miles) |
| --- | --- | --- | --- |
| £437 | 4 | detached_house | 0.89 |
| £692 | 5 | detached_house | 1.12 |
| £425 | 5 | detached_house | 1.82 |
| £485 | 5 | detached_house | 2.21 |
| £127 | 4 | detached_house | 2.22 |
| £323 | 4 | detached_house | 2.47 |
| £219 | 3 | detached_house | 2.67 |
| £323 | 4 | detached_house | 2.68 |
| £335 | 4 | detached_house | 2.78 |
| £231 | 4 | detached_house | 2.87 |
| £299 | 3 | detached_house | 2.89 |
| £450 | 4 | detached_house | 3.05 |
| £462 | 5 | detached_house | 3.27 |
| £288 | 3 | detached_house | 3.28 |
| £346 | 3 | detached_house | 3.42 |
| £1,269 | 4 | detached_house | 3.49 |
| £923 | 5 | detached_house | 3.72 |
| £400 | 4 | detached_house | 3.83 |
| £400 | 5 | detached_house | 3.89 |
| £320 | 4 | detached_house | 3.90 |