Room LSH02770, Trinity Hall C House, Laisteridge Lane, Bradford - BD5 0NW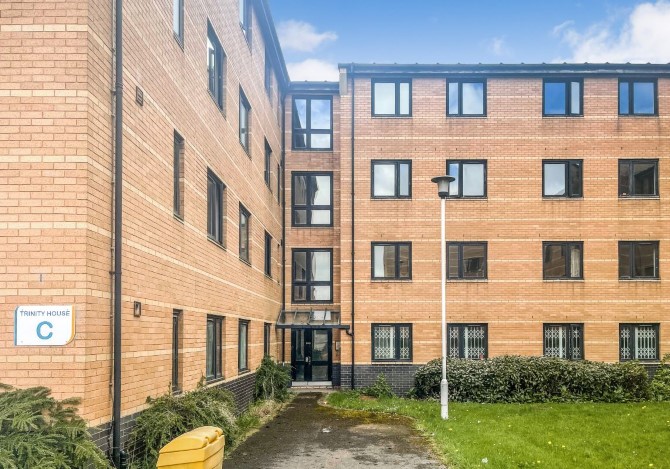 Beds: 3
Type: Detached
Tenure: Leasehold
Auction House London describes this property as:
A Vacant Second Floor Bedsitting Room. The property comprises a second floor bedsit situated within a purpose built block arranged over ground and three upper floors. There is a communal kitchen and dining area.
We have no current sold data to provide comparisons for this lot.
The following data is based on a Leasehold 3 bedroom Detached. This data is derived and aggregated from public sources and to be used as a guide not an authority. Please let us know if you spot any anomalies.
Average weekly rental: £231
| Weekly Rent | Bedrooms | Property Type | distance (miles) |
| --- | --- | --- | --- |
| £183 | 3 | detached_house | 1.29 |
| £219 | 3 | detached_house | 2.33 |
| £219 | 3 | detached_house | 2.55 |
| £323 | 3 | detached_house | 4.08 |
| £231 | 3 | detached_house | 4.28 |
| £219 | 3 | detached_house | 5.67 |
| £219 | 3 | detached_house | 5.78 |
| £230 | 3 | detached_house | 6.85 |
| £230 | 3 | detached_house | 6.86 |
| £277 | 3 | detached_house | 8.60 |
| £173 | 3 | detached_house | 8.76 |
| £277 | 3 | detached_house | 8.92 |
| £219 | 3 | detached_house | 10.02 |
| £462 | 3 | detached_house | 11.18 |
| £335 | 3 | detached_house | 11.74 |
| £230 | 3 | detached_house | 11.78 |
| £196 | 3 | detached_house | 12.05 |
| £213 | 3 | detached_house | 15.07 |
| £231 | 3 | detached_house | 15.45 |
| £299 | 3 | detached_house | 16.40 |