The Old Passage, Arlingham, Gloucester - GL2 7JR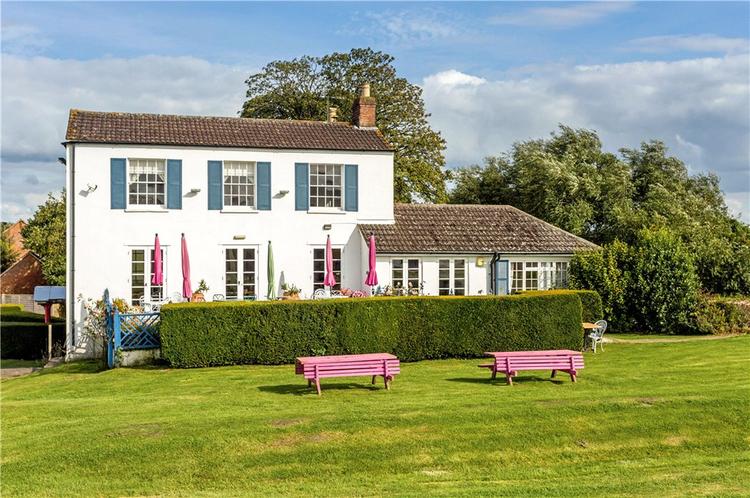 Beds: No data
Type: Terrace
Tenure: No data
Know what you are buying before you bid with a Legal Risks & Cost Report:
Costs Summary,
extracted from all sections
Legal Risks Summary,
ranking all identified risks by importance
Legal Risks Detail
- your essential section by section guide to addressing the risks
Express 1-Business-Day Delivery
and free
All-In Updates
- right up to auction day
Knight Frank Auction (SDL Auctions) describes this property as:
A unique opportunity in the picturesque village of Arlingham with lovely views over the River Severn. Formally run as a Seafood Restaurant this property has flexible well-proportioned rooms with fantastic storage and outbuildings. The Old Passage is formally a commercial property but has potential for alternative uses, subject to permissions. Amongst the accommodation, there is ample storage to the lower ground floor and attached garaging. Outside, the grounds are mostly laid to lawn with a terrace and patio area taking in the views of the Severn. ...
Auctioneer:
Knight Frank Auction (SDL Auctions)
We are unable to find enough local data to provide good comparisons for this type of property. The data we are providing covers there average for -all- properties
Average sold price:
£189,050
Average asking price:
£179,975
Average price per sq/ft:
£213
| Date | Price | Beds | Address | Distance (miles) |
| --- | --- | --- | --- | --- |
| 24 Jul 2020 | £166,500 | | 4, Park View, Saul, GL2 7LD | 2.61 |
| 24 Jul 2020 | £140,000 | 2 | 8, Silver Street, Littledean, GL14 3NN | 2.67 |
| 08 Jul 2020 | £163,500 | | 45, Ann Wicks Road, Frampton On Severn, GL2 7HH | 3.15 |
| 16 Apr 2020 | £340,000 | | Bear Cottage, Severn Street, GL14 1BA | 1.12 |
| 26 Mar 2020 | £175,000 | 2 | 2, Allsopp Close, GL14 1DP | 1.26 |
| 19 Mar 2020 | £155,000 | | 8, Harrison Close, GL14 1DW | 1.26 |
| 11 Feb 2020 | £282,000 | 3 | 1, Beeching Cottages, Bullo Pill, GL14 1EB | 1.37 |
| 06 Dec 2019 | £246,500 | 3 | 12, Park View, Saul, GL2 7LD | 2.60 |
| 06 Dec 2019 | £305,000 | 3 | Mansion House, Broad Street, Littledean, GL14 3NQ | 2.81 |
| 27 Nov 2019 | £310,000 | | 1, Glebe Cottages, Framilode, GL2 7LH | 2.74 |
| 25 Oct 2019 | £160,000 | 2 | 6, Archway Close, Soudley, GL14 2TS | 3.12 |
| 18 Oct 2019 | £155,000 | 4 | Fair View, High Street, GL14 1BY | 1.16 |
| 05 Aug 2019 | £156,000 | | 2, Deans Place, Littledean, GL14 3NQ | 2.81 |
| 24 Jul 2019 | £170,000 | 3 | 3, Nailsmiths Court, Littledean, GL14 3JH | 2.94 |
| 12 Jul 2019 | £185,000 | 2 | Vali View, The Green, GL14 1AF | 1.20 |
| 12 Jul 2019 | £175,000 | | 25, Harrison Close, GL14 1DW | 1.23 |
| 04 Jul 2019 | £165,000 | | 8, The Green, GL14 1AF | 1.20 |
| 21 Jun 2019 | £162,000 | | 22, Harrison Close, GL14 1DW | 1.23 |
| 11 Jun 2019 | £550,000 | 5 | Church House, High Street, GL14 1AA | 1.13 |
| 30 May 2019 | £300,000 | | 4, Beeching Cottages, Bullo Pill, GL14 1EB | 1.37 |
We are unable to find enough local data to provide good comparisons for this type of property. The data we are providing covers there average for -all- properties
Average weekly rental: £161
| Weekly Rent | Bedrooms | Property Type | distance (miles) |
| --- | --- | --- | --- |
| £155 | 3 | terraced_house | 3.46 |
| £153 | 1 | terraced_house | 5.13 |
| £185 | | terraced_house | 5.96 |
| £148 | 1 | terraced_house | 6.00 |
| £173 | 2 | terraced_house | 6.17 |
| £167 | 2 | terraced_house | 6.19 |
| £162 | 2 | terraced_house | 6.26 |
| £173 | 2 | terraced_house | 6.45 |
| £173 | 2 | terraced_house | 6.46 |
| £179 | 2 | terraced_house | 6.86 |
| £148 | 2 | terraced_house | 7.18 |
| £150 | 2 | terraced_house | 7.58 |
| £144 | 2 | terraced_house | 7.94 |
| £196 | 3 | terraced_house | 8.09 |
| £369 | 4 | terraced_house | 8.64 |
| £369 | 4 | terraced_house | 8.66 |
| £138 | 2 | terraced_house | 8.82 |
| £160 | 2 | terraced_house | 8.85 |
| £81 | 1 | terraced_house | 8.87 |
| £81 | 1 | terraced_house | 8.99 |