35 Baptist End Road, Dudley, West Midlands - DY2 9DH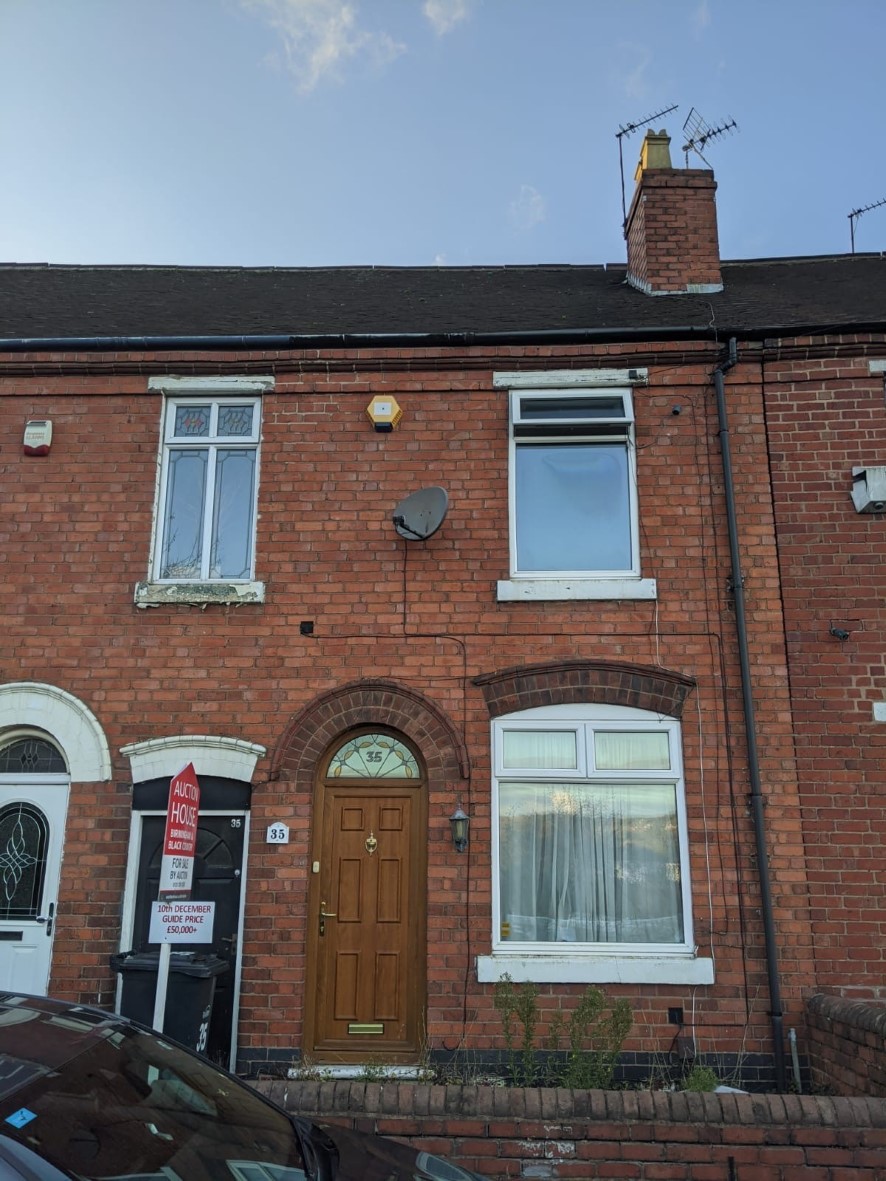 Beds: No data
Type: Terraced
Tenure: No data
Know what you are buying before you bid with a Legal Risks & Cost Report:
Costs Summary,
extracted from all sections
Legal Risks Summary,
ranking all identified risks by importance
Legal Risks Detail
- your essential section by section guide to addressing the risks
Express 1-Business-Day Delivery
and free
All-In Updates
- right up to auction day
Auction House Birmingham & Black Country describes this property as:
This beautifully presented and cosy terraced home is entered from the frontage in to the living room, which leads to the kitchen, offering a fantastic space for dining and entertaining! There are two double bedrooms, an UPSTAIRS BATHROOM and the added benefit of a useful loft room off the second bedroom. This property also has a good size rear garden, a cellarette giving storage space, double glazing and central heating. ...
Auctioneer:
Auction House Birmingham & Black Country
We are unable to find enough local data to provide good comparisons for this type of property. The data we are providing covers there average for -all- properties
Average sold price:
£115,240
Average asking price:
£143,495
Average price per sq/ft:
£133
| Date | Price | Beds | Address | Distance (miles) |
| --- | --- | --- | --- | --- |
| 19 Jun 2020 | £120,000 | 3 | 27, Hampton Street, DY2 0NJ | 0.36 |
| 24 Apr 2020 | £160,000 | | 6, Cinder Bank, Netherton, DY2 9AL | 0.31 |
| 27 Mar 2020 | £122,950 | 3 | 43, Clarence Road, DY2 8EJ | 0.30 |
| 31 Jan 2020 | £119,500 | | 49, Windsor Crescent, DY2 8HA | 0.25 |
| 31 Jan 2020 | £110,000 | 3 | 1, Blackbrook Road, Netherton, DY2 0NT | 0.34 |
| 19 Dec 2019 | £113,000 | 3 | 26, St Andrews Street, Netherton, DY2 0QD | 0.35 |
| 29 Nov 2019 | £114,950 | 2 | 109, Park Road, Netherton, DY2 9DD | 0.08 |
| 29 Nov 2019 | £130,000 | | 33, Bournebrook Close, Netherton, DY2 0PG | 0.21 |
| 29 Nov 2019 | £135,000 | | 63, Simms Lane, DY2 0PX | 0.24 |
| 15 Nov 2019 | £100,000 | | 3, Halesowen Road, Netherton, DY2 9QG | 0.12 |
| 08 Nov 2019 | £142,500 | 3 | 22, Dalston Close, DY2 8HR | 0.19 |
| 23 Sep 2019 | £95,000 | 3 | 106, Park Road, Netherton, DY2 9DD | 0.08 |
| 17 Sep 2019 | £80,000 | 3 | 89, New Road, DY2 9AZ | 0.24 |
| 06 Sep 2019 | £112,000 | 2 | 10, Ryan Place, Netherton, DY2 9BE | 0.19 |
| 03 Sep 2019 | £73,500 | 1 | 4a, Hillcrest Close, DY2 0NQ | 0.35 |
| 02 Sep 2019 | £130,000 | 3 | 11, Hampton Street, DY2 0NJ | 0.35 |
| 31 Jul 2019 | £112,000 | 2 | 17, Ryan Place, Netherton, DY2 9BE | 0.20 |
| 12 Jul 2019 | £105,000 | 2 | 142, Park Road, Netherton, DY2 9DD | 0.06 |
| 31 May 2019 | £120,000 | 3 | 13, Edinburgh Road, DY2 8EW | 0.32 |
| 17 May 2019 | £108,000 | 3 | 122, Park Road, Netherton, DY2 9DD | 0.06 |
We are unable to find enough local data to provide good comparisons for this type of property. The data we are providing covers there average for -all- properties
Average weekly rental: £146
| Weekly Rent | Bedrooms | Property Type | distance (miles) |
| --- | --- | --- | --- |
| £58 | 1 | terraced_house | 0.72 |
| £87 | 1 | terraced_house | 0.72 |
| £196 | 4 | terraced_house | 0.92 |
| £75 | 1 | terraced_house | 1.18 |
| £69 | 2 | terraced_house | 1.24 |
| £156 | 3 | terraced_house | 1.45 |
| £135 | 2 | terraced_house | 1.70 |
| £133 | 2 | terraced_house | 1.87 |
| £138 | 2 | terraced_house | 1.93 |
| £183 | 3 | terraced_house | 2.05 |
| £138 | 2 | terraced_house | 2.08 |
| £167 | 3 | terraced_house | 2.18 |
| £150 | 2 | terraced_house | 2.23 |
| £167 | 3 | terraced_house | 2.35 |
| £138 | 2 | terraced_house | 2.41 |
| £156 | 3 | terraced_house | 2.43 |
| £173 | 2 | terraced_house | 2.46 |
| £76 | 1 | terraced_house | 2.52 |
| £150 | 3 | terraced_house | 2.61 |
| £162 | 2 | terraced_house | 2.77 |