Plot Adj. 26 Station Road, Aslacton, Norwich, Norfolk - NR15 2DU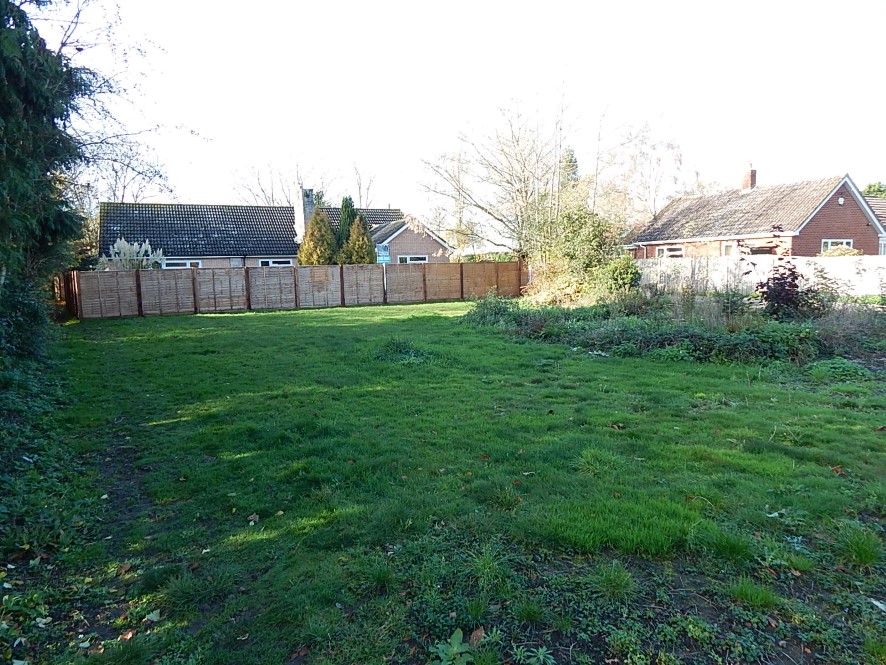 Guide Price: £90,000 - £110,000
Beds: No data
Type: Detached
Tenure: No data
Know what you are buying before you bid with a Legal Risks & Cost Report:
Costs Summary,
extracted from all sections
Legal Risks Summary,
ranking all identified risks by importance
Legal Risks Detail
- your essential section by section guide to addressing the risks
Express 1-Business-Day Delivery
and free
All-In Updates
- right up to auction day
Auction House East Anglia describes this property as:
This lot comprises a parcel of land with planning permission granted on appeal for a detached bungalow and garage. The site is in a non estate position and has frontage to Station Road of around 15m and a maximum depth of around 25m. Running east west adjacent to the south boundary is a public footpath. Aslacton is a rural south norfolk village located around four miles south west of Long Stratton and eight miles north of Diss, both of which have a comprehensive range of services and amenities. Planning Planning permission was granted on appeal on 8th June 2020 for erection of a dwelling and garage. Appeal reference APP/L2630/W/19/3240707. Original SNDC application number 2019/1711. Further details and plans can be found on the public access website of South Norfolk District Council south-norfolk.gov.uk/planning. Note Please would all interested parties register their interest with the Auctioneers in order that they may be kept up to date with the auctioneers. ...
Auctioneer:
Auction House East Anglia
We are unable to find enough local data to provide good comparisons for this type of property. The data we are providing covers there average for -all- properties
Average sold price:
£278,000
Average asking price:
£400,500
Average price per sq/ft:
£256
| Date | Price | Beds | Address | Distance (miles) |
| --- | --- | --- | --- | --- |
| 12 May 2020 | £290,000 | 4 | 12, Potters Crescent, Great Moulton, NR15 2HL | 0.88 |
| 17 Apr 2020 | £260,000 | 3 | Woodlands, Sneath Road, Aslacton, NR15 2DS | 0.14 |
| 09 Apr 2020 | £287,500 | | The Brambles, Hall Lane, Wacton, NR15 2UH | 1.86 |
| 24 Mar 2020 | £235,000 | | 9, Sheval Close, Aslacton, NR15 2DT | 0.11 |
| 28 Feb 2020 | £795,000 | 5 | Homefields, Grove Road, Tivetshall St Margaret, NR15 2BE | 1.79 |
| 24 Feb 2020 | £523,000 | 6 | 32, Hall Lane, Wacton, NR15 2UH | 1.81 |
| 06 Feb 2020 | £238,000 | 2 | Ashleydene, Rectory Road, Tivetshall St Mary, NR15 2AL | 2.16 |
| 04 Feb 2020 | £250,000 | 4 | Wagtail Barn, Station Road, Tivetshall St Margaret, NR15 2BB | 1.29 |
| 29 Jan 2020 | £184,000 | 3 | 4, Heather Way, Great Moulton, NR15 2HP | 0.67 |
| 20 Dec 2019 | £335,000 | 3 | 44, Station Road, Aslacton, NR15 2DU | 0.00 |
| 13 Dec 2019 | £325,000 | 4 | Jalu Barn, The Green, Wacton, NR15 2UN | 1.98 |
| 29 Nov 2019 | £280,000 | 3 | The Old School House, The Street, Tibenham, NR16 1QA | 1.40 |
| 23 Sep 2019 | £400,000 | 4 | 10, The Street, Tivetshall St Mary, NR15 2BU | 1.81 |
| 23 Jul 2019 | £257,500 | 3 | Ontario, Wash Lane, Wacton, NR15 2UJ | 1.85 |
| 18 Jul 2019 | £136,000 | | The Firs, 3, Blackmill Lane, Great Moulton, NR15 2DZ | 0.25 |
| 15 Jul 2019 | £165,000 | 3 | The Old Post Office, The Street, Tibenham, NR16 1AP | 1.38 |
| 09 Jul 2019 | £435,000 | 4 | Bramble House, The Street, Tibenham, NR16 1PZ | 1.45 |
| 21 Jun 2019 | £240,000 | 2 | 20, Hall Lane, Wacton, NR15 2UH | 1.86 |
| 30 May 2019 | £255,000 | 3 | Kendall, Green Lane, Tivetshall St Margaret, NR15 2BJ | 1.61 |
| 29 May 2019 | £365,000 | 4 | Coldstream, The Street, Tibenham, NR16 1PZ | 1.45 |
We are unable to find enough local data to provide good comparisons for this type of property. The data we are providing covers there average for -all- properties
Average weekly rental: £364
| Weekly Rent | Bedrooms | Property Type | distance (miles) |
| --- | --- | --- | --- |
| £345 | 4 | detached_house | 4.48 |
| £179 | 2 | detached_house | 5.88 |
| £202 | 3 | detached_house | 7.89 |
| £242 | 4 | detached_house | 8.20 |
| £369 | 4 | detached_house | 8.34 |
| £392 | 4 | detached_house | 10.60 |
| £323 | 4 | detached_house | 10.79 |
| £300 | 3 | detached_house | 11.15 |
| £369 | 4 | detached_house | 11.67 |
| £92 | 1 | detached_house | 11.74 |
| £346 | 4 | detached_house | 11.81 |
| £369 | 4 | detached_house | 11.97 |
| £253 | 4 | detached_house | 12.03 |
| £421 | 5 | detached_house | 12.03 |
| £433 | 5 | detached_house | 12.03 |
| £415 | 5 | detached_house | 12.04 |
| £433 | 5 | detached_house | 12.04 |
| £415 | 5 | detached_house | 12.13 |
| £415 | 5 | detached_house | 12.14 |
| £576 | 5 | detached_house | 12.14 |