Mark Of Friendship, New Street, Millbrook, Torpoint, Cornwall - PL10 1BY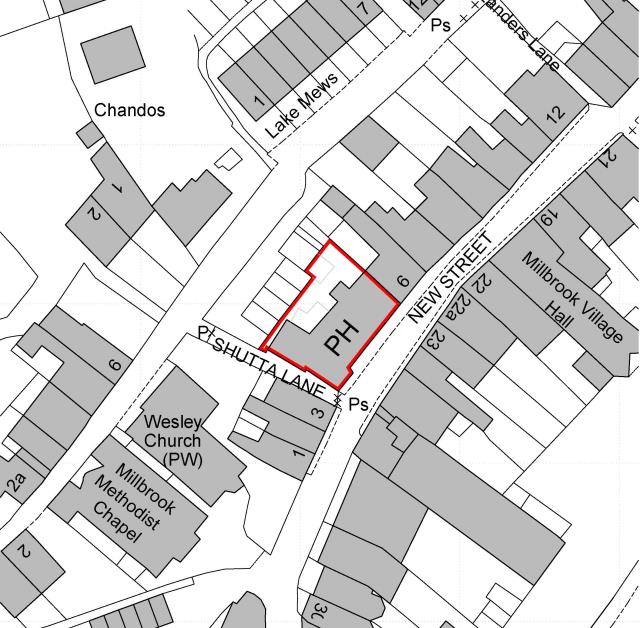 Beds: No data
Type: No data
Tenure: No data
Know what you are buying before you bid with a Legal Risks & Cost Report:
Costs Summary,
extracted from all sections
Legal Risks Summary,
ranking all identified risks by importance
Legal Risks Detail
- your essential section by section guide to addressing the risks
Express 1-Business-Day Delivery
and free
All-In Updates
- right up to auction day
Sutton Kersh describes this property as:
A residential development opportunity comprising of a former public house with a Grant of Conditional Planning Permission in place, under application number APP/D0840/W/20/3251246 on the 9th September 2020 for 'Proposed change of use of public house to three dwellings, external alterations and demolition of outbuildings to the rear at the Mark of Friendship, New Street, Millbrook, Cornwall PL10 1BY. The permission is granted in accordance with the terms of the application ref PA19/07150 dated 8th September 2019. Interested parties must make and rely upon their own planning enquiries of Cornwall Council Planning Department. ...
We are unable to find enough local data to provide good comparisons for this type of property. The data we are providing covers there average for -all- properties
Average sold price:
£180,215
Average asking price:
£213,500
Average price per sq/ft:
£196
| Date | Price | Beds | Address | Distance (miles) |
| --- | --- | --- | --- | --- |
| 01 Sep 2020 | £250,000 | 2 | 6, New Street, Millbrook, PL10 1BY | 0.01 |
| 05 Jun 2020 | £315,000 | 2 | 2, Gordon Terrace, Millbrook, PL10 1BT | 0.17 |
| 22 May 2020 | £152,000 | | 92, West Street, Millbrook, PL10 1AF | 0.13 |
| 23 Mar 2020 | £219,000 | | 9, New Street, Millbrook, PL10 1BY | 0.01 |
| 14 Feb 2020 | £170,000 | 2 | 16, New Street, Millbrook, PL10 1BY | 0.03 |
| 31 Jan 2020 | £160,000 | 3 | Cygnet Cottage, 13, Newport Street, Millbrook, PL10 1BW | 0.03 |
| 21 Jan 2020 | £370,000 | 3 | 2, Alexandra Place, Millbrook, PL10 1BJ | 0.09 |
| 20 Dec 2019 | £192,000 | 2 | 8, Trefusis Terrace, Millbrook, PL10 1ED | 0.20 |
| 13 Dec 2019 | £227,500 | 3 | 4, Priesthood Terrace, Millbrook, PL10 1BL | 0.12 |
| 29 Nov 2019 | £147,500 | 2 | 3, Newport Street, Millbrook, PL10 1BW | 0.05 |
| 28 Nov 2019 | £95,000 | 1 | 4b, King Street, Millbrook, PL10 1AP | 0.08 |
| 11 Nov 2019 | £125,000 | 2 | 28, St Andrews Street, Millbrook, PL10 1BE | 0.15 |
| 27 Sep 2019 | £122,500 | 3 | 5, St Andrews Street, Millbrook, PL10 1BE | 0.15 |
| 20 Sep 2019 | £120,000 | | 1, Eton Cottages, Millbrook, PL10 1BP | 0.05 |
| 12 Sep 2019 | £218,150 | 4 | 20, St Andrews Street, Millbrook, PL10 1BE | 0.15 |
| 04 Sep 2019 | £435,000 | 4 | Hamilton, Newport Street, Millbrook, PL10 1BW | 0.03 |
| 23 Aug 2019 | £437,500 | | The Old Orchard, Greenland, Millbrook, PL10 1DE | 0.07 |
| 19 Jul 2019 | £100,000 | 2 | 1, Dawes Lane, Millbrook, PL10 1AZ | 0.06 |
| 31 May 2019 | £165,000 | | Central House, 1, King Street, Millbrook, PL10 1AP | 0.08 |
| 22 May 2019 | £151,000 | 3 | 12, West Street, Millbrook, PL10 1AA | 0.15 |
We are unable to find enough local data to provide good comparisons for this type of property. The data we are providing covers there average for -all- properties
Average weekly rental: £159
| Weekly Rent | Bedrooms | Property Type | distance (miles) |
| --- | --- | --- | --- |
| £225 | 4 | semi-detached_house | 0.07 |
| £183 | 3 | semi-detached_house | 0.23 |
| £144 | 2 | semi-detached_house | 0.34 |
| £173 | 3 | semi-detached_house | 0.34 |
| £219 | 2 | detached_house | 1.64 |
| £138 | 2 | terraced_house | 1.72 |
| £127 | 1 | flat | 1.92 |
| £114 | 1 | flat | 1.97 |
| £312 | 4 | detached_house | 1.99 |
| £127 | 1 | semi-detached_house | 2.04 |
| £196 | 5 | terraced_house | 2.04 |
| £127 | 2 | flat | 2.14 |
| £213 | 4 | detached_house | 2.25 |
| £110 | 1 | flat | 2.26 |
| £148 | 1 | flat | 2.30 |
| £127 | 1 | flat | 2.32 |
| £183 | 1 | flat | 2.33 |
| £156 | 1 | flat | 2.34 |
| £173 | 2 | flat | 2.35 |
| £160 | 2 | flat | 2.35 |