What's an
Auction Pass?
Hint: The best new tool designed for (and by) property investors.
You told us due diligence is time consuming and expensive, especially since you're considering multiple properties for sale at an auction.
As all pros know - you've got to read the legal pack. But, doing this properly can take hours, even days, if you're researching a few lots in an auction. It takes just one overlooked piece of information to derail the profit potential of your purchase. Alternatively, paying solicitor fees for properties you're not sure you will even be bidding on, or win, can be prohibitively expensive.
Introducing Auction Pass
You asked. We listened.
Only property investors know what property investors need. And so we asked you what you'd like to see from our service. Inspired by your suggestions, we're excited to bring you Auction Pass. It's designed to offer you more of the easy, fast and comprehensive due diligence we always deliver. So that you can research and compare many properties for sale in one auction with full confidence. Even those unsold properties that you might want to act on fast.
The Auction Pass gives you access to 5 Aucspace Legal Pack Summaries, within one auction, for £39 (+VAT) per Summary. Yes, you did read that correctly. That's over a 50% savings off the £79 one-off Summary price.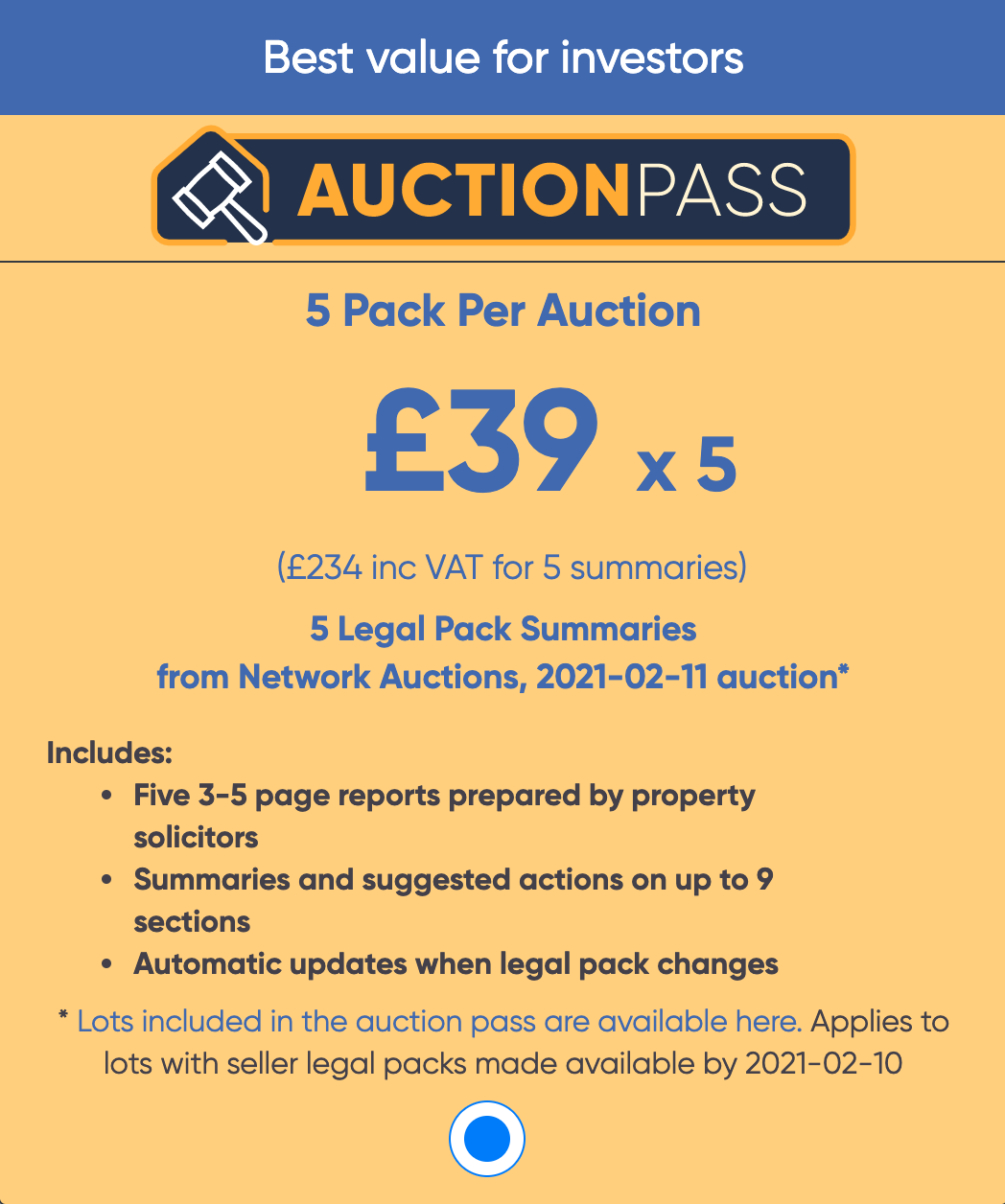 Where can you find Auction Pass?
We're rolling out the Auction Pass auction by auction. You can see which auctions it's now available for on the Upcoming Auctions page.

When you click to purchase any lot to purchase a Summary, you'll be offered the new Auction Pass, in addition to our £79 one-off option. If you choose the Auction Pass, you'll instantly get 4 more credits to use on any eligible* lot within that auction.
(*All eligible lots are listed on the Auction page, including any lots with seller legal documentation available up to 1 business day before the auction date.)

We're working hard to bring Auction Pass to many more auctions soon. As usual, we seek to be guided by you. Tell us which auction houses should get the Auction Pass next.
How will Auction Pass help you?