What's in an
Aucspace Legal Risks & Cost Report?
The old legal pack process is going, going, gone
Today, every property offered for sale at auction is accompanied by a legal pack which is prepared by the seller's solicitors. These legal packs are usually available to download from the Auctioneers website prior to the auction. The documentation will generally consist of:
Special Conditions of Sale
Official Copy of Register of Title (Office Copy Entries) and supporting title documents
Conveyancing Searches
Leases (if applicable)
Other related documents affecting the property, such as fixtures list, property forms and EPC
Legal packs can be confusing and complicated
Auctioneers strongly recommend you inspect the legal packs for the properties you are interested in. But these can often contain 100's of pages of complicated, difficult to understand, documents. So enlisting the costly services of a solicitor to summarise and make sense of them is needed. And constant updates to the pack mean non-stop chasing right up to auction day.
If a bid is successful, the buyer is legally bound to complete the purchase and can be fully responsible for all that matters that may come to light later. If a buyer is not completely happy with the information in the legal pack, the best advice is to make further enquiries and seek specialist advice before making a bid.
What's included in your
Aucspace Legal Risks & Cost Report?
Our auction-expert solicitors review every document in the legal pack and identify all the legal risks and costs you need to know. And we're fast - you'll get it in 1 business day.
Your Summary delivers full information on up to 9 sections, including:
Management Pack
Lease
Searches
Protocol Forms
Transfer Document
Special Conditions
Title
Tenancy Documents
Miscellaneous
Here's what you get:
1
Costs Summary
Your cost information all in one place: broken into Purchase, Post-Purchase costs and Revenue.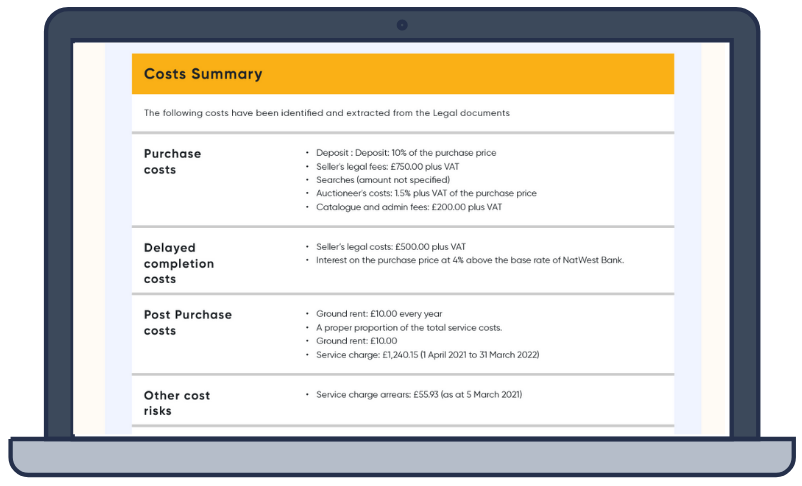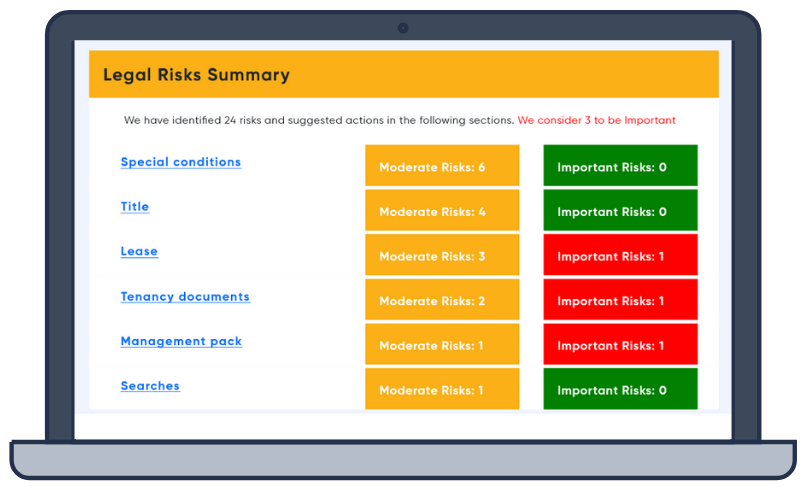 2
Legal Risks Summary
Your list of identified risks, ranked by our solicitors as 'Important' (affecting future saleability or mortgage) vs 'Moderate'.
3
Legal Risks Detail
Your section-by-section action guide to address the legal risks.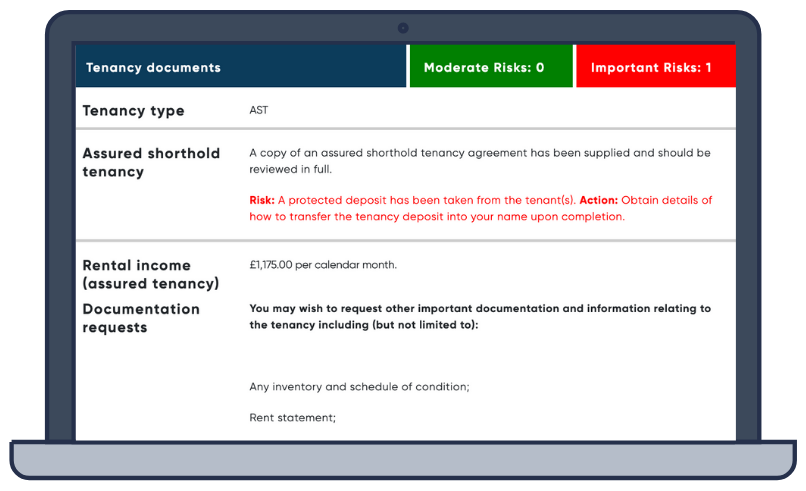 Plus... you get Express 1-Business-Day Delivery and free All-In Updates
Stop stressing, start bidding.